"I received this product for free fromSmiley360 in exchange for my honest review. You can join Smiley360 too!
"Mom, we are out of toothpaste."
No, we aren't. We have 10 tubes in the stockpile. Look.
"Mom, we are out of the good toothpaste."
The good toothpaste in our household is always Crest Pro-Health. If we run out of this particular kind of toothpaste, there will be riots and chaos. Okay, that is a little dramatic but basically there is will be no brushed teeth and/or there will lots of pretend gagging when forced to use the alternate toothpaste brands.
Yes, our household is a little picky in this case. I blame couponing as I would never have bought this originally had I not had a coupon for it. Now you know our brand loyalties are with Crest. So when Smiley360 asked me if I wanted to do a review on Crest Pro-Health Tartar Protection products, I was in!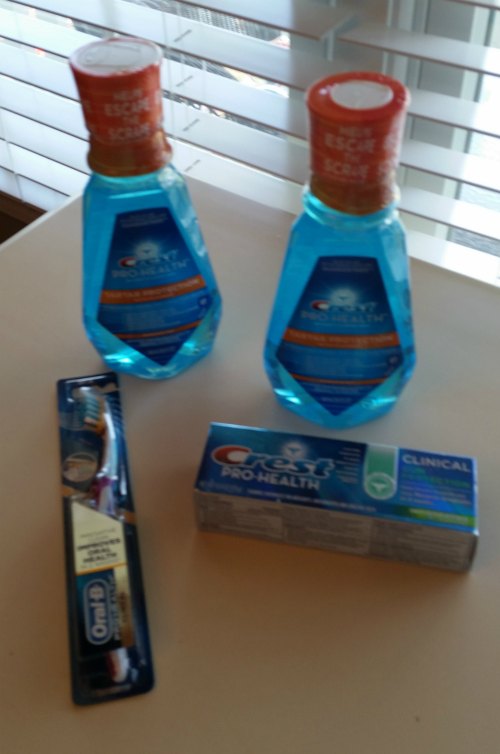 Crest Pro-Health helps you escape the scrape at your next dentist visit. It's no surprise your dental check-ups leave you wanting to check out. That's because of left behind tartar being scraped away. Luckily, Crest Pro-Health Tartar Protection Rinse works hard to keep your teeth healthy, and your check-ups smooth. The only rinse that helps prevent tartar build-up and cavities.
Our family loves the taste and the clean we feel after we use Crest Pro-Health toothpaste and rinse. My teeth feel clean and smooth after use. Plus, the taste is fantastic.
Like Crest on Facebook for future offers, promotions, and more. Learn more about all the products in the Crest Family.
This post was sponsored via Smiley360. Rest assured, this Post was written by me and was not edited by the sponsor. Read more on my Disclosure Policy.