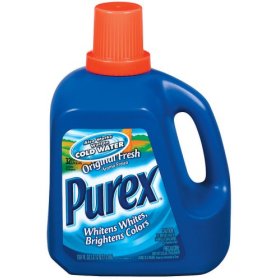 This week at CVS (until 4/18) Purex are Buy 1 Get 1 Free. There is a Buy 1 Get 1 Free coupon from coupons.com for SELECT zip codes.
Check out coupons.com, enter you zipcode, and cross your fingers that your zip code is eligible for this fabulous coupon! After the coupon, you can get (2) Purex Laundry Detergent for FREE!
If you are eligible, run to CVS to get your FREE Purex! Purex is one of the top laundry detergents in my laundry detergent stockpile.
Remember if your store is out of stock,  ask for a rain check to use when they are re-stocked.