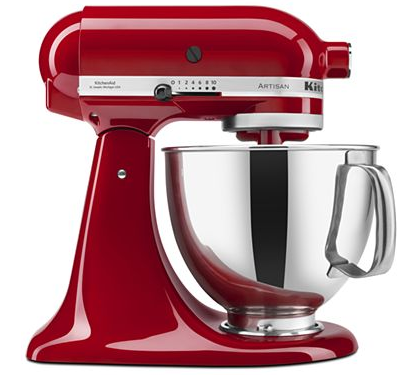 Many of you are shopping for KitchenAid Stand Mixers either for yourself to help with your holiday baking or as gifts. Send some of those goodies over to me if you are baking! Ha, ha, totally kidding as my blogger butt doesn't need anymore baked goods!
I'm trying to find the very best deals on KitchenAid Stand Mixers for you for Cyber Monday! Good thing for you is that they are starting many of these deals on Sunday (today!) There are so many different sizes, styles, and options to choose from.
I'll update this list as I find more deals!  Looks like right now your best bet is Kohl's or Walmart or JCPenney if you are interested in a larger model. 
Amazon
Amazon has FREE two day shipping and has a large selection of KitchenAid Stand Mixers to choose from. Prices starting at $229.00. Free shipping with no minimum purchase.
Kohl's
Kohl's has four KitchenAid Stand Mixers to choose from in multiple colors. Prices start at $269.99. Use coupon code CYBERWEEK to save 20%  on your order. Plus,  you will earn $15 in Kohl's cash for every $50 you spend. You can now redeem any Kohl's cash earned from last week
For example:
KitchenAid Classic Plus 4.5 qt Stand Mixer – $269.99
– 20% off with code CYBERWEEK
FREE shipping
Pay $215.99 out of pocket + Use any Kohl's cash on hand to purchase!
Get $60 Kohl's Cash to use on additional purchase
Like paying $155.99 for this stand mixer!
 Sears
Sears has a large selection of different KitchenAid Stand Mixers as well as a nice variety of color choices. Here you can get the KitchenAid Professional Plus 5 qt. Stand Mixer for $19.99 as a Shop Your Way Rewards member. Plus, earn $6 in Shop Your Way Rewards points to use later. Store pickup on this particular item.However, looks like out of stock in my area
The KitchenAid Classic Plus 4.5 quart stand mixer is $218.49 right now and you can earn $6.55 SYWR points back on this one. It's like paying  $211.49.  Free shipping when you sign up for a new Shop Your Way Rewards membership.
Walmart has the KitchenAid Classic 4.5 qt stand mixer for $199.00. Free shipping or free store pickup.
JCPenney
JCPenney has the more expensive stand mixers on sale like the KitchenAid Artisan 5 qt Stand Mixer for $349.99, plus there is $50 rebate offer.  Free shipping. It's like paying $299.99 after the rebate offer. These retail for around $450.00.
Want to save loads of money this holiday season? Find the latest holiday deals I've posted about. You can also check out the Hot Holiday deals,  Giveaways, Online Coupon Code Database, and my Holiday Gift Guide. These pages are being updated often.