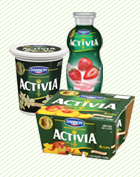 If you have purchased Activia or DanActive products before April 24, 2010, you could be eligible for up to $100 claim from a Class Action Law Suit Settlement.
For claims $30 – $100, you will have to provide proof of purchases of your claims. Receipt hoarders who have purchased large quantities of these products, will be eligible for a full reimbursement. Like you needed another reason to save every single receipt, right?

Find all the information you need to process your claim at the Dannon Settlement Site.
Product List:
Activia 4pk $2.39
Activia 8pk $4.77
Activia 12pk $6.82
Activia Fiber $2.39
Activia Light 4pk $2.41
Activia Light 8pk $4.73
Activia Light 12pk $6.81
Activia Drinks $3.50
Activia Quarts $2.87
Activia Light Quarts $2.77
DanActive 4pk $2.36
DanActive Light 4pk $2.45
DanActive 8pk $4.81
DanActive Light 8pk $4.81
You must submit a claim form electronically via the website or via mail postmarked no later than October 1, 2010.
Thanks, Who Said Nothing in Life is Free!