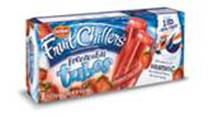 These frozen fruit treats pack a healthy punch right in time for the summer months!
Recently, Del Monte recently sent us a box of their new Fruit Chillers Freeze & Eat Tubes to try out. We just popped them into the freezer and the next morning they were ready!
They are targeted for children but I scarfed down 3 of them this evening! At only 1 Weight Watcher point each or 55 calories, these are a much better choice for me, then say,  a nice size chocolate bar.
What is cool about the Fruit Chiller Tubes is they are made from real fruit and give you 25% of the daily recommendation of Vitamin C. One box contains one pound of REAL fruit! Varieties include Strawberry Snow Storm & Grape Berry Blizzard.
These retail for $2.89 for 8 ct.   – Target has them on sale this week for $2. There is a $1 off 1 printable available from Red Plum. Which brings your price down to $1.89. You will find them near the other non-frozen Del Monte snack cups.
Have you tried these? What do you think?