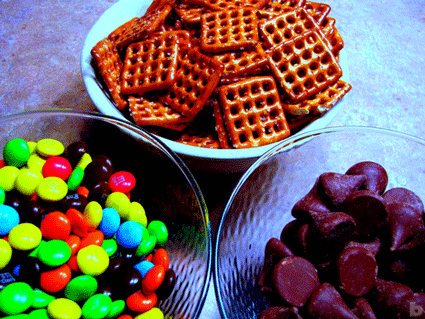 If you've been reading my blog for awhile, you know I'm not a "Master of the Kitchen." Not at all. So when I find something easy and delicious, I love to share it with you. Belly Button Kisses are one of my favorite holiday recipes.
The part that takes the longest is taking the foil off the Hershey Kisses. If you can find these unwrapped, save yourself some time and purchase the Hershey Kisses unwrapped!
Dessertizer: A dessert served usually before a dessert to stimulate your sweet buds.

Belly Button Kisses
Ingredients
Milk Chocolate Hershey Kisses
M&Ms
Waffled Pretzels (I used Meijer Store Brand)
Preheat Oven to 300°.
Unwrap the Hershey Kisses if necessary.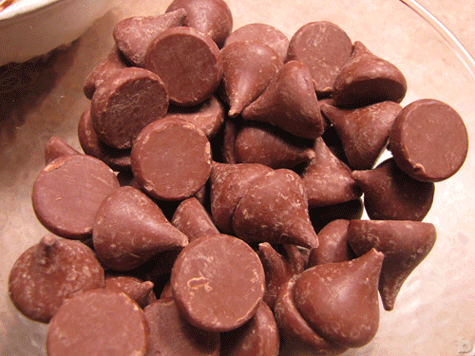 Place waffled pretzels in a single layer on wax paper on a baking sheet. Then center the Hershey Kisses on the pretzel.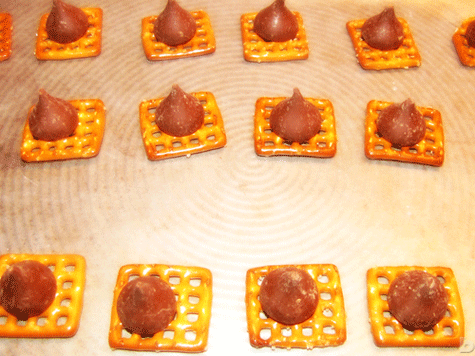 Cook for approx. 3 minutes at 300°. Be really careful, you don't overheat. With my oven it took 3 – 3 mins 30 secs. You can test with a toothpick or by pressing a M&M down on the tip. Again, I will repeat, don't overheat as it will ruin your batch. Yes, I did this the first time.
Immediately after removing from oven, place a M&M on the tip of the Hershey Kiss and press down. The finished product should look like a belly button!
Allow your finished product to set by placing it in the refrigerator for 10-15 minutes. If you want to make a large batch, these also freeze very well.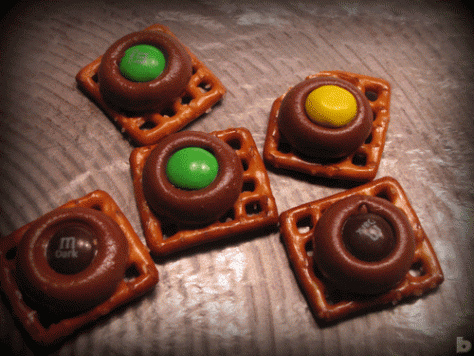 You can customize these for any holiday or event. Unfortunately, I couldn't find Holiday M&Ms at my grocery store tonight so I settled for the regular ones. It might also be fun to customize the M&Ms for a really special event. You can serve on a tray or wrap in goody bags for a special gift.
I've also experimented with different varieties of Hershey Kisses. Your cooking time will vary with the different types of chocolate. So do a little experimentation before trying to do a whole batch at once.
Enjoy!
[amd-zlrecipe-recipe:21]