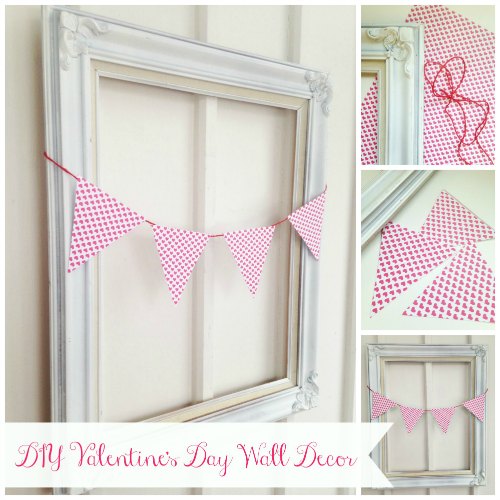 Add a simple but pretty pop of color to your space when you give this DIY Valentine's Day Wall Décor a try. You can make your own in just minutes and using items you may already have on hand. Once completed your DIY Valentine's Day wall décor is perfect for gift giving or keeping for yourself of course. Here is how you can get started.
Supplies needed:
Picture frame (size and color of your choice)
Spray paint (optional)
Ribbon or twine
Valentine's Day themed scrapbook paper
Scissors
Hot glue, glue gun
We had an old frame ready to use for this project. If you don't, check out local thrift stores for a cool frame that is of decent size. You can then spray paint it the color of your choice or leave it as is.
Directions:
1. Remove the inserts of your frame as you won't be needing it.
2. Apply two coats of spray paint if needed. This step is optional.
3. Begin cutting your scrapbook paper into triangles. You can stack squares of paper on top of each other and cut into triangles that way so they stay even and uniform. The number you cut out will depend on the length of your twine or ribbon.

4. Add some glue to the back of your triangles and press to the twine or ribbon. Add about ½ inch to an inch in between each.
5. Once the triangles are dry and in place, glue the ends of the ribbon or twine to the back of the frame.
Your DIY Valentine's Day wall décor is now ready to be displayed. Hang it just as you would a picture and enjoy!
Find more handmade Valentine's Day ideas!
Did you enjoy this post? Find more money saving tips here.