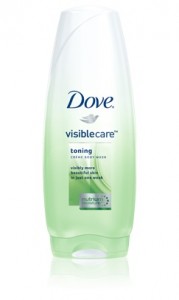 With summer here, here's some quick and simple tips from beauty expert Jenn Falik to keep your skin looking and feeling beautiful and smooth all summer long.
Keep hot showers short and sweet. Steaming hot water can really dry out your skin, so convince yourself to enjoy a slightly lukewarm temperature and buy yourself an extra 2 or 3 minutes of blissful bathing.
Pesky dry elbows? Take a lemon, cut it in half, and lay each half face up on a flat surface. Then, sink your elbows into them. After about 20 seconds, your dry skin will disappear. Added bonus – the subtle citrus fresh scent lingers.
Be patient. Pat your moisturizer into your skin instead of rubbing it on (better absorption, less tugging on the skin) and give it a good minute to soak into the skin before you move onto the next step of your make up routine.
Make a difference. Sleeveless season is upon us, so opt for a body wash that will make an actual difference in the way you skin looks – like Dove® Visible Care™ Body Wash. This way, beautiful skin becomes part of your daily shower routine – simple and efficient, two of my favorite words when it comes to beauty.
Remember, you can be featured on a billboard in Time Square!  Yes, the Time Square in New York! Dove has a fun FreeFlys going on right now that features REAL women just like me and you!  Simply submit your photo featuring your beautiful skin and you will be featured on the billboard in Times Square.
How would you like to win a bottle of Dove® Visible Care™ Toning Body Wash so you can try it out for yourself? Be sure to enter via the widget below!
See the rest of the Giveaways!