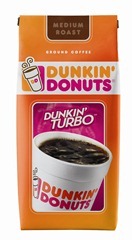 Dunkin' Donuts will be offering holiday shoppers freshly brewed samples of Dunkin' Donuts Original Blend Coffee at select mall locations across the country! They will also be handing out FREE samples of Dunkin' Turbo Coffee (1 oz).
Participating Malls Include:
Stonebriar Mall, Frisco, TX
Twelve Oaks, Novi, MI
Northridge Fashion Center, Los Angeles, CA
Glendale Galleria, Los Angeles, Ca
Brookfield Square Mall, Milwaukee, WI
Pioneer Place or Clackamas Town Center, Portland, OR
Ingram Park Mall, San Antonio, TX
San Francisco Center or Stonestown Galleria, San Francisco
Keep your eye out for this free sample while you are shopping on Friday and Saturday!