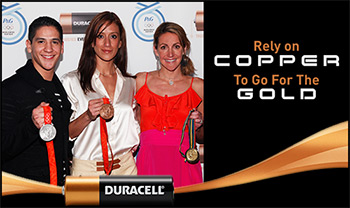 If you have been watching the Olympics and I know many of you have, you may have noticed that Duracell is an official sponsor of the London 2012 Olympic games. "Team USA may rely on Duracell to power their training devices, but they also need fan support to gain the winning edge." How can you help at home? Check out the Virtual Stadium app tab on the Duracell Facebook page. You can help power the athletes by sending them inspiring messages as they go for the gold. Looks like it is working as it seems like there is quite a few USA Olympic gold winners this year!
These words of encouragement will be displayed on a 25+ foot high tech screens in London at the P&G Family Home, which is the place where athletes and families go to connected because families are not allowed in the Olympic Village. Plus, when you submit your motivational message, you will be entered for a chance to win a trip to the Sochi 2014 Olympic Winter Games or a $500 Visa gift card.  Where is Sochi you may wonder? It is in Russia so this would be an ultra cool trip to win!
As a child, the Olympics were always a big deal to watch on television. We didn't have near the amount of programming choices as we do today and there was and still is something magical about the Olympics and the athletes.  Plus, at that time, they only came around every four years instead of having either winter or summer every two years. One of my favorite parts isn't even watching the actual events, it is listening to the stories of the athletes and their families and what they had to sacrifice and who influenced and inspired them in such great ways for them to achieve their goals.
Being an athlete is a great talent. I'm sure many of your kids play sports just like mine. What makes Olympic athletes different than just the average player? From watching many of the stories, it seems like a supportive family seems to be one of the keys along with talent and a competitive spirit.
Most of our children are not going to grow up to be Olympians. However, we can all dream, right?  Encouraging your child to stay active, be involved in something they love, and give it their all is the best support you can give your child. Sometimes it is so hard to not lose your cool when a call by the officials doesn't go your way or to forget that you are dealing with a young child but encouraging them and loving them for the player they are is the best thing we can do as parents!
My kids have played golf, soccer, basketball, baseball, softball, football, gymnastics, ballet, tennis, and probably more than I can think of at the moment. I love that they play to keep active, make new friends, and most of all have fun. They have tried out different sports and some work for them and others don't. Right now, my boys are loving golf, which I think is fantastic since it is a life long activity they can enjoy. Just remember, be their biggest fan without crossing over to the maniacal parent-fan.
How do your encourage and support your child in their sport or activity of choice? 
For more information about Duracell and upcoming promotions, be sure to follow them on Twitter and Facebook.
I was compensated for this blog post as part of the SocialMoms and Duracell blogging program. The opinions and ideas expressed here are my own. Read more on my Disclosure Policy.