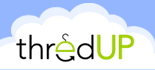 Join thredUp.com for free on April 22, 2011 and you will receive a $13.95 swapping credit. You can use that credit towards your first box of "pre-loved" kids clothing, toys, or books. With your credit, it will just just cost $2 for your box of goodies!
Since thredUP is a swapping community, you can also de-clutter by sending boxes of stuff your kids no longer use to other moms for free – all without leaving the house. Going green has never been easier…

On average, swapping kids gear can lighten your overall eco-footprint by 5%(based on an EPA report and thredUP user stats).
Since thredUP's launch (last Earth Day) we've helped over 100,000 parents 'up-cycle' 500,000+ kids items – that's enough gear to pave 200 miles!