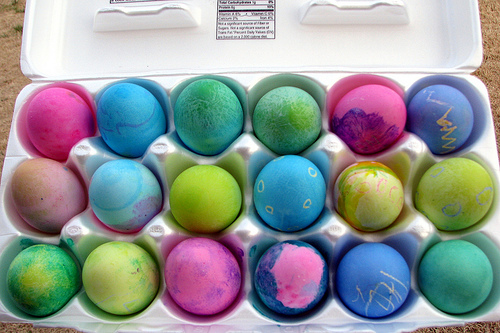 Easter is a time of celebration and many families celebrate by hosting Easter Sunday Dinners or Brunches. Are you hosting your party? You can save on your event with these simple tips! Many of these techniques can be used for other dinners and events throughout the year.
Keep an eye on meat prices, stock up when it's on sale, and freeze for later use. You can also buy a portion of a cow from a local farmer or market. When we've done this in the past, we've spent about $2/lb for all cuts of beef including steaks, roasts, and ground beef. The quality is much better, it is locally raised, and you know where it came from.
Here's a few examples of stock up prices on Meat via $5 Dollar Dinners:
Pork Chops (bone-in) – $0.99/lb
Pork Chops (boneless) – $1.49/lb
Pork Roast – $1.49/lb
Beef Roast – $1.99/lb
Ground Beef – $1.49/lb
Ground Chuck – $1.89/lb
Whole Chicken – $0.99/lb
Split Chicken Breasts – $1.19/lb
Boneless Skinless Chicken Breasts/Tenderloins – $1.99/lb
Keep your menu simple with one main dish and just a few side dishes. Consider having a pot luck dinner and have guests bring their favorite dish. Serve tea, coffee, or lemonade instead of bottled or canned items for additional savings.
Use your own plates instead of paper or plastic plates – saves money and reduces waste. If you do use paper or plastic, be sure to check out the Coupon Database for coupon savings. You can also print out coupons from Coupons.com, SmartSource.com, RedPlum.com, and CouponNetwork.com.
Deals
:: Aldi (Meat & Produce Deals)
Maple Leaf Farms Duckling with Orange Sauce – $2.49/lb
Appleton Farms Spiral Sliced Half Honey Ham – $1.49/lb
Appleton Farms Smoked Hank Shank Portion – $1.19/lb
Appleton Farms Smoked Ham Butt Portion – $1.29/lb
Grandess Signature Brown Sugar Spiral Ham – $1.99/lb
Aspen Valley Lamb Leg Roast – $5.49/lb
Strawberries (1 lb package) – $1.69
Pineapple – $1.69/each
Sweet Potatoes (3 lb bag) – $1.49
Celery – $0.69/each
:: Amazon
:: CVS
Mars Easter Candy Eggs – $0.88
$1/2 Mars Easter Products
$1/2 Mars Easter Products 04/10/11 RP Insert (exp 04/24/11)
$2/2 Mars Easter Products All You Apr 2011 (exp 04/24/11)
$1/2 Mars Easter Products 03/20/11 RP Insert (exp 04/24/11)
Net Price FREE
iTunes Gift Cards
Buy (2) iTunes Gift Cards, Get $5 Extra Bucks (Limit 1)
:: Family Dollar – Save 10% on Easter Pre-filled Baskets, Greeting Cards & Easter Novelties with this printable coupon.
Filler Eggs (10 pk) – $0.90 with coupon!
Paas Sparkles Fun Egg Dye Kit – $1.80 with coupon!
Easter Grass (1.75 oz) – $0.45 with coupon!
:: Kroger (Meat)
Cook's Shank Portion Ham – $.77/ lb
Tyson Split Chicken Breasts, Drumsticks or Thighs – $.97/ lb
:: Walgreens
Eggs – $1.29
Buy (2) Get (2) Free One Night Redbox Rentals
Search the Coupon Database for more coupons!
Other
:: Free Kindle Download: The Very First Easter
:: PocoyoWorld: Pocoyo's Easter Egg Hunt, Free Easter Activities, and Easter Coloring Sheets
:: In-Store only Christmas Price Guarantee (I still haven't gotten through the St. Patrick's Angry Birds yet!)
:: Easter Craft Ideas: ALL YOU features easy DIY craft ideas for the whole family.
:: Easter Egg Crafts: ALL YOU will show you how eggs can be come tiny, festive vases, baby chick and bunny decorations, garlands and more.