Southwestern Egg Rolls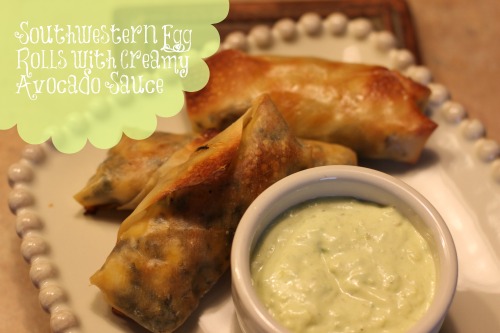 2 cups frozen corn
15 ounce black beans, drained and rinsed
9 ounce frozen chopped spinach, thawed and drained
2 cups shredded Mexican cheese
4 ounce diced green chilies, drained
2 green onions, finely chopped
1 teaspoon ground cumin
½ teaspoon chili powder
½ teaspoon salt
½ teaspoon McCormick's Fiesta Citrus spice
1 package egg roll wrappers
½ cup ranch dressing
½ medium ripe avocado, peeled and mashed
1 tablespoon cilantro, fresh, minced
Preheat oven to 400 degrees.
Combine all ingredients except the egg roll wrappers together in a large bowl.
Scoop around 2-3 tablespoons in the wrappers.
Wrap per instructions on package.
Spray baking sheet with non-stick cooking spray.
Place on baking sheet.
Brush each egg roll with olive oil.
Cook for 15 minutes until golden brown. Flip once during the middle.
Combine all ingredients for the sauce until thoroughly mixed.