Dessertizer: Belly Button Kisses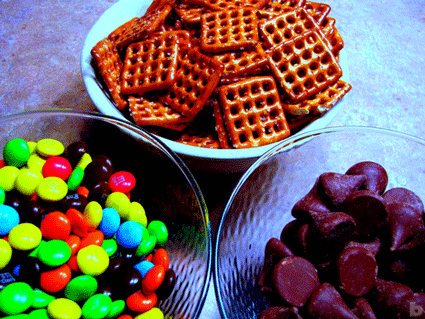 Milk Chocolate Hershey Kisses
M&Ms
Waffled Pretzels (I used Meijer Store Brand)
Preheat Oven to 300°.
Unwrap the Hershey Kisses if necessary.
Place waffled pretzels in a single layer on wax paper on a baking sheet. Then center the Hershey Kisses on the pretzel.
Cook for approx. 3 minutes at 300°. Be really careful, you don't overheat. With my oven it took 3 – 3 mins 30 secs. You can test with a toothpick or by pressing a M&M down on the tip. Again, I will repeat, don't overheat as it will ruin your batch. Yes, I did this the first time.
Immediately after removing from oven, place a M&M on the tip of the Hershey Kiss and press down. The finished product should look like a belly button!
Allow your finished product to set by placing it in the refrigerator for 10-15 minutes. If you want to make a large batch, these also freeze very well.
Recipe by
BargainBriana
at https://bargainbriana.com/dessertizer-belly-button-kisses/