Chunky Monkey Brownies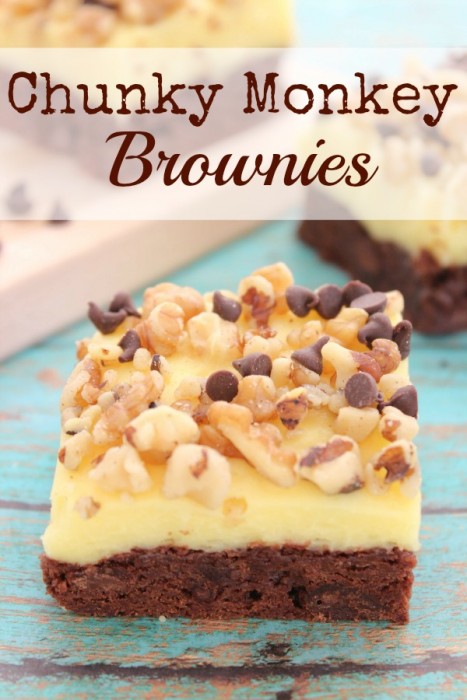 Brownies:
½ cup melted Butter
1 cup Sugar
2 Eggs
½ cup Chocolate Chips
1 tsp Vanilla
⅓ cup Cocoa Powder
½ cup Flour
¼ tsp Salt
¼ tsp Baking Powder
Topping:
16 oz Heavy Cream
1 box (5 oz) Banana Creme Pudding mix
½ cup Powdered Sugar
¼ cup chopped Walnuts
¼ cup Chocolate Chips
Preheat oven to 350.
Grease an 8x8" pan and dust with flour.
Whisk together cocoa, flour, salt and baking powder.
In a sepaarate bow, combine melted butter, sugar, eggs, and vanilla. Mix to combine.
Beat dry ingredients into butter mixture.
Fold chocolate chips into batter.
Spread batter into prepared pan.
Bake 25 to 30 minutes.
Allow to cool.
Whip heavy cream until soft peaks form.
Whip in powdered sugar and pudding mix
Spread topping over cooled brownies.
Garnish by sprinkling with walnuts and chocolate chips.
Refrigerate until ready to serve.