Pumpkin French Toast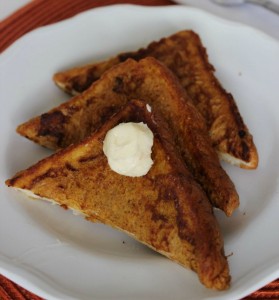 12 slices Thick Sliced White Bread (Texas Toast)
4 Eggs
½ cup Pumpkin Puree
¾ cup Milk
3 tbsp Brown Sugar
1 tsp Vanilla
2 tsp Pumpkin Spice
2 tbsp Butter (for skillet)
Mix together eggs, milk, pumpkin, brown sugar, vanilla and pumpkin spice until blended.
Transfer to a shallow dish.
Heat a nonstick skillet over medium heat.
Place a small pat of butter in skillet.
When butter melts, dip a piece of bread in egg mixture allowing mixture to absorb for a couple of seconds.
Flip over and dip other side.
Cook in skillet until bottom is browned.
Add butter and flip to cook other side until browned.
Dust with powdered sugar or serve with whipped butter and syrup.