Buffalo Chicken Meatballs| Freezer to Slow Cooker Meals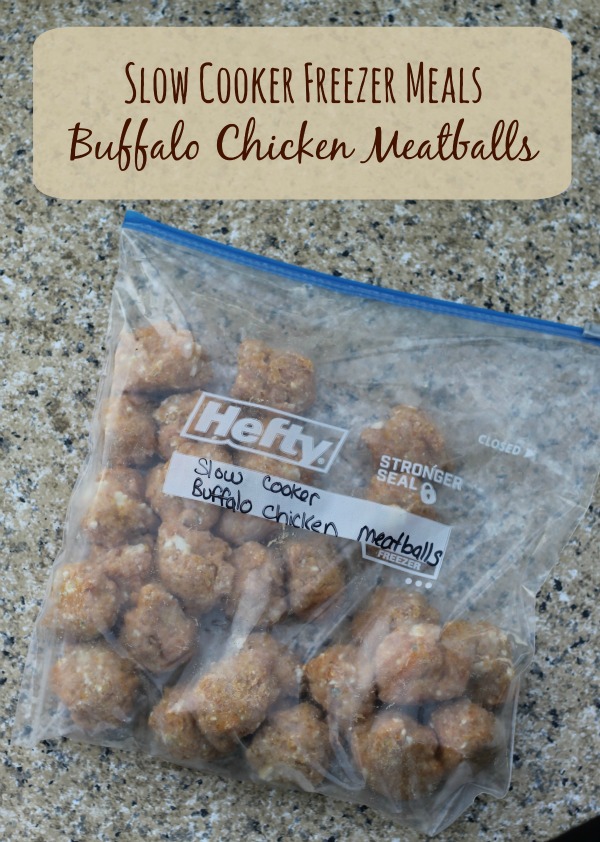 1 lb ground chicken
8 oz. package Blue Cheese
1 egg
½ cup bread crumbs
2 T. buffalo sauce
2 T. brown sugar
¼ tsp. minced garlic
½ tsp. salt
1 tsp. black pepper
Label gallon bag with name, date, and cooking directions before filling.
Combine all ingredients in a large bowl until well mixed, get your hands in there and really mix it all up thoroughly. Add a bit more breadcrumbs if needed to help it stick together.
Roll into balls approximately 1" -1 ½".
Place on a baking sheet and freeze until very firm.
Remove from baking sheet and place in gallon bag.
If you put meatballs directly in bag to freeze without first freezing them separate the will mash together in the bag and not be nice for serving.
Thaw meatballs.
Coat crockpot generously with nonstick cooking spray.
Place meatballs at bottom of crockpot in a single layer.
Cook on low for about 2 hours.
Serve additional buffalo sauce, ranch, and bleu cheese for dipping.
Don't forget to add a side of carrots and celery for snacking on too!
Recipe by
BargainBriana
at https://bargainbriana.com/buffalo-chicken-meatballs/