Ham & Scalloped Potatoes | Freezer to Slow Cooker Meals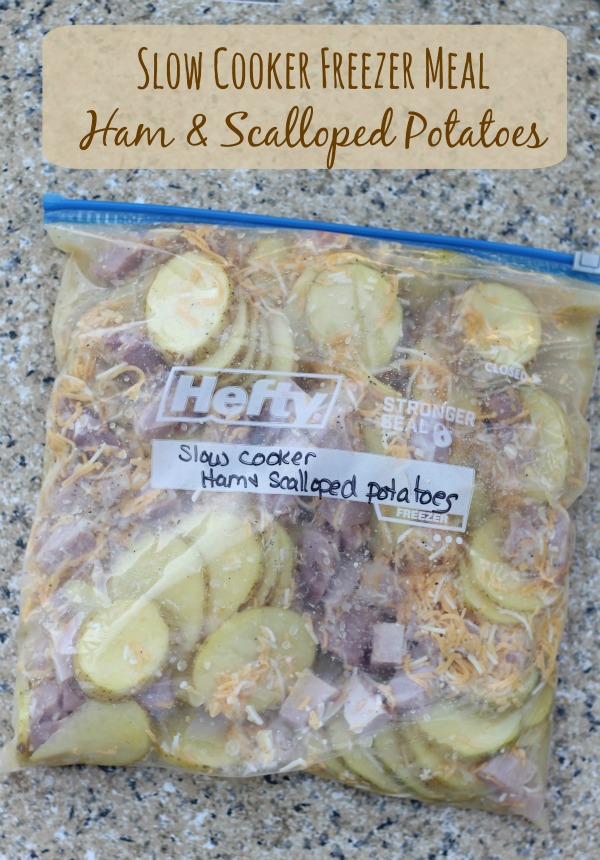 10 medium russet potatoes
1 ham steak
8 oz. shredded cheddar cheese
1 cup chicken broth
1 cup water
1 T. spicy brown mustard
½ tsp garlic, diced
½ onion, diced small
1 tsp.salt
½ tsp. ground pepper
Label a gallon freezer bag with contents, date, and cooking instructions.
Wash and slice potatoes to ¼" thickness.
Chop ham into small bite sized pieces.
In gallon freezer bag combine- sliced potatoes, diced ham, shredded cheese, broth, water, spicy brown mustard, garlic, salt and pepper.
Knead bag to mix all ingredients together.
Press air from bag and seal, making bag as flat as possible to conserve freezer space.
Thaw bag contents completely.
Coat inside of slow cooker generously with non stick cooking spray, alternatively you could use a slow cooker bag for easy clean up.
Pour potato mixture into prepared slow cooker.
Cook on low for 7-8 hours, stirring gently once or twice during cooking.
Recipe by
BargainBriana
at https://bargainbriana.com/ham-scalloped-potatoes/