Maple Bacon Pork Loin |Freezer to Slow Cooker Meals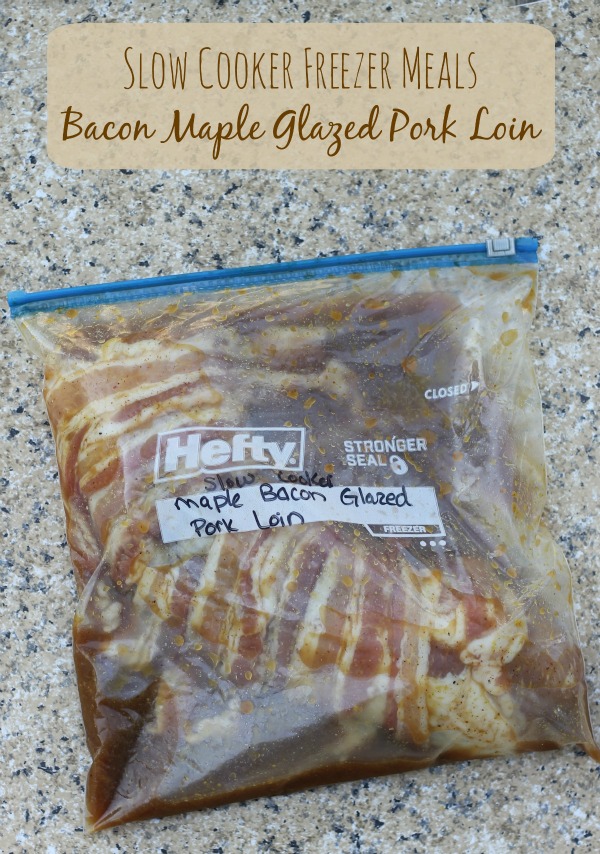 3 lb. pork loin
4-5 strips bacon
¾ cup maple syrup
3 T. spicy brown mustard
2 T. apple cider vinegar
1 T. soy sauce
1 ½ tsp. diced garlic
1 tsp. ground black pepper
Label gallon freezer bag with contents, date, and cooking instructions.
Pour maple syrup, brown mustard, apple cider vinegar, garlic, soy sauce, and black pepper into gallon freezer bag-whisk well to combine.
Begin at one end and tightly wrap in bacon, continuing to the other end.
Place prepared pork loin in gallon bag.
Press air from bag and seal.
Coat slow cooker well with nonstick cooking spray, you could also use a slow cooker liner bag to make clean up super simple.
Place thawed pork loin into bottom of slow cooker, pour any marinade left in the bag over the pork to coat.
Cook on low for 6-7 hours.
Recipe by
BargainBriana
at https://bargainbriana.com/maple-bacon-pork-loin/