Chicken & Sweet Potatoes | Freezer to Slow Cooker Meals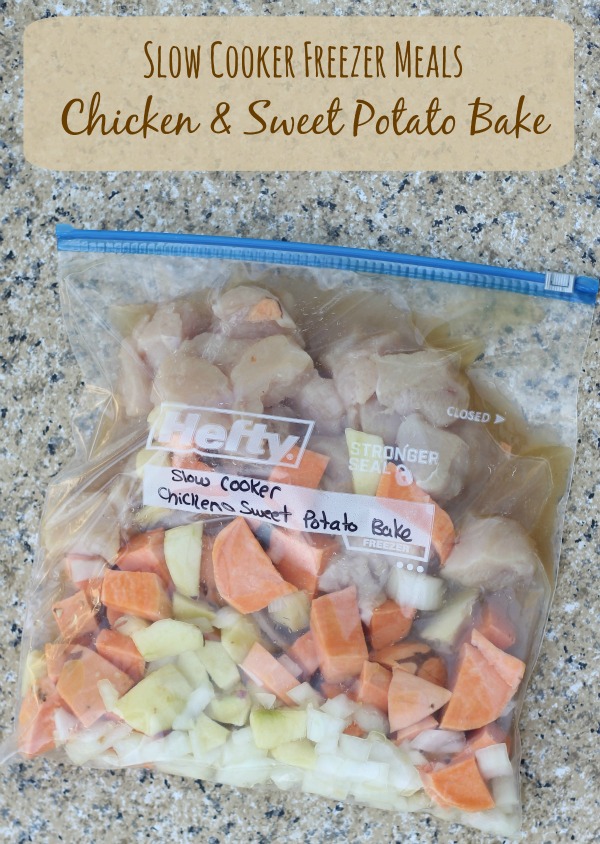 1 lb. boneless, skinless chicken breast
1-2 sweet potatoes
1 apple
½ onion
2 T. brown sugar
½ cup chicken broth
1 T. apple cider vinegar
½ tsp. garlic minced
1 tsp. salt
1 tsp. pepper
Use sharpie to label bag before filling.
Peel, and chop sweet potatoes into large chunks.
Peel and finely chop apple.
Cut chicken into bite sized pieces.
In gallon sized bag combine chicken broth, brown sugar, apple cider vinegar, garlic, salt, and pepper -whisk in bag or seal bag and shake to combine.
Add chicken, apple, sweet potato, onion, and seasonings.
Smooth air from bag, seal well.
Wipe off outside of bag well.
Thaw bag completely in the fridge overnight or in sink for a several hours, be careful to not allow freezer bag to come to room temperature.
Coat slow cooker well with nonstick spray.
Add contents to slow cooker, stir to combine well.
Recipe by
BargainBriana
at https://bargainbriana.com/slow-cooker-chicken-sweet-potatoes/