Mexican Chicken Thighs with a Creamy Poblano Sauce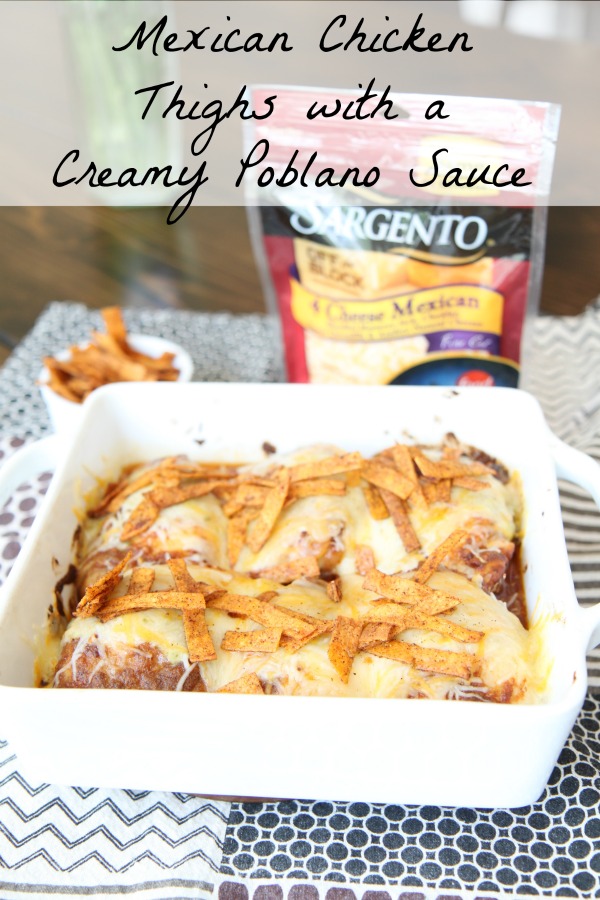 2 Poblano Peppers
2 tablespoons butter
2 garlic cloves, minced
1 teaspoon cumin
salt and pepper
2 tablespoons flour
1 cup chicken broth
2 teaspoons cilantro, finely chopped
1 cup heavy cream
8 corn tortillas
4 teaspoon vegetable oil
1 teaspoon chili powder
¼ teaspoon onion powder
¼ teaspoon garlic pwoder
¼ teaspoon salt
¼ teaspoon black pepper
⅛ teaspoon cayenne pepper
2 cloves minced garlic
1 tablespoon paprika
1 tablespoon cumin
2 teaspoon salt
½ teaspoon cayenne pepper
dash black pepper
5 - 6 chicken thighs, skin on and bone-in
2 tablespoons olive oil
juice from 1 lime
8 ounce Sargento 4 Cheese Mexican Blend shredded cheese
Preheat broiler to high.
Broil poblanos until charred. Remove from oven and run under cold water and peel, seed, and roughly chop.
Over medium-high heat, melt butter. Add garlic, cumin, salt, and pepper. Cook for 5 minutes.
Add poblanos. Mix in flour and cook for 2 more minutes.
Add chicken broth and allow to thicken. Stir constantly.
Transfer to a food processor and add cilantro. Blend until pureed. Transfer back to pan.
Add cream and cook until thicken.
Preheat oven to 375 degrees.
Cut corn tortillas into ½" strips. Add tortilla strips to a large bowl and toss with vegetable oil and seasonings. Make sure to coat strips evenly.
Transfer to a baking sheet lined with a baking mat.
Cook for 5 minutes. Toss and return to oven. Cook for an additional 5-10 minutes or until crispy.
Preheat oven to 350 degrees.
Combine the garlic, paprika, cumin, salt, cayenne pepper, and black pepper in a small bowl. Mix in olive oil and lime juice. Rub all over chicken.
Cook for 40-50 minutes.
Remove from oven.
Top with ½ - ¾ cup of creamy poblano sauce and cheese.
Cook for an additional 5- 10 minutes or until cheese is melted and chicken is cooked thoroughly.
Top with crispy baked tortilla strips.
Recipe by
BargainBriana
at https://bargainbriana.com/mexican-chicken-thighs-with-a-creamy-poblano-sauce/