Make from Scratch: Grandma's Biscuits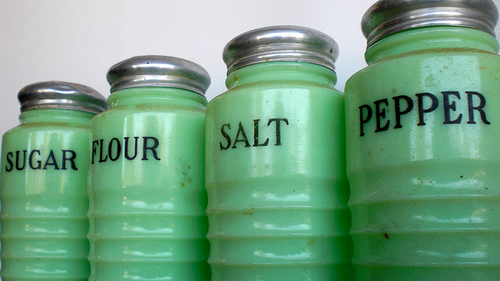 2 c. flour
2 tbsp. sugar
1 tsp. salt
4 tsp. baking powder
½ tsp. cream of tartar
½ c. cold butter
1 c. cold milk
Stir together dry ingredients. Cut in butter with a pastry blender or fork until mixture resembles coarse crumbs. Pour in milk and stir quickly to combine.
On a well floured surface, knead the dough by folding it in half, pressing it out slightly and repeating those two steps until the dough holds together, about 2-3 kneading repetitions. I usually sprinkle ⅛ c. flour onto the counter, place the dough down and then sprinkle another ⅛ c. flour on top before kneading.
Press out until ½" thick, cut into 2" rounds using a cookie cutter or even a drinking glass. Place on an oiled baking sheet, close together for softer sides and about 2" apart for crispier sides.
Bake at 450 for 10-12 minutes or until golden brown on the bottom.
Recipe by
BargainBriana
at https://bargainbriana.com/make-from-scratch-grandmas-biscuits/