Slow Cooker Beef & Noodles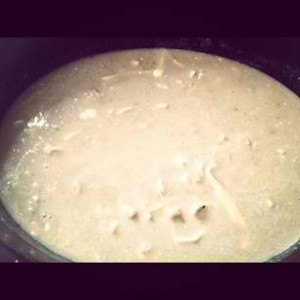 1 lb beef roast or sirloin steak
1 Tablespoon Olive oil
1 clove garlic, minced
¼ cup soy sauce
2 Tablespoons Worchestershire sauce
5 cups of water
2 cans cream of mushroom
4 ounces cream cheese
16 ounces homestyle noodles
salt & pepper to taste
Pour olive oil and garlic at the bottom of your slow cooker pan.
Add the beef, soy sauce, Worchestershire sauce, water, cream of mushroom to your slow cooker. Cook on low for 4-6 hours until meat is done.
Add cream cheese and noodles and cook for an additional 30 minutes on high or until noodles are cooked.
Recipe by
BargainBriana
at https://bargainbriana.com/slow-cooker-beef-noodles/