Hillshire Farm Lit'l Smokies Mummy Dogs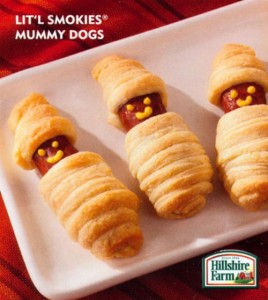 Serves:
16 appetizer servings
32 Hillshire Farm® Lit'l Smokies®
1 can (8 ounces) refrigerated crescent rolls
Mustard or Ketchup, if desired
Preheat oven to 375°F.
Unroll dough, separate at perforations, creating 4 rectangles. Press perforations to seal.
Cut each rectangle lengthwise into 8 strips with a knife or pizza cutter, making a total of 32 strips. Wrap one strip of dough around each sausage stretching dough slightly to look like bandages. Leave tip of sausage exposed to create face. Place on ungreased cookie sheet.
Bake 10-13 minutes or until golden brown. Draw features with mustard on tip of sausage to create face. Serve with mustard and ketchup, if desired.
Serving size:
(about 2 Mummy Dogs each)
Recipe by
BargainBriana
at https://bargainbriana.com/win-it-hillshire-farm-litl-smokies-mummy-dogs-4-free-product-coupons/