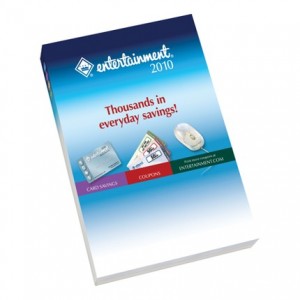 You can score a Entertainment 2010 book for just $10.50 shipped after Ebates Cash Back. Summer is approaching and there are many discounts you can take advantage of to keep your kids entertained this summer!
Purchase Entertainment 2010 through Ebates for $15 with free shipping.
Earn 30% ($4.50) cash back on your purchased.
After Ebates, your final final is just $10.50!
When you purchase your Entertainment 2010 Book, be sure to use Ebates as you will receive 30% back! If you are new to Ebates, you can read how you can earn cash back on your online purchases! Plus, you get a $5 bonus when you sign up and make $20 or more in purchases within 90 days!