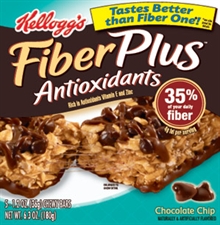 If you had to open up your purse for the world right now, how would it look? A huge shock right now is the bag I use every day is actually kind of organized. I don't carry a traditional purse for the most part.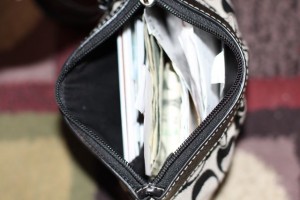 I use my canvas tote, which was part of the swag from a blog conference in conjunction with a small wristlet for daily use. The small pocket book has no spare room for anything else let alone a Kellogg's Fiber Plus bar!
I'm not sure if this picture really gives justice to the mess inside of this little thing. Basically I have numerous  receipts, petty cash, gift cards, driver's license, and of course, several tubes of lipbalm and lip gloss in my wristlet.
Usually, I will take my canvas tote when I head to the office. It has several important items I may need throughout the day along like any checks received, business cards, pens, miscellaneous papers, etc. However, it's a little too big for carry around for too long but has the best pockets for storing Kellogg's FiberPlus bars, which I like to take along for a breakfast or snack on the go!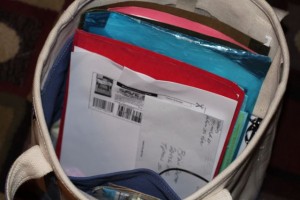 Have you tried the Kellogg's FiberPlus bars? Not only are they tasty, they contain 35% of the recommended daily value of fiber – in case you um, need some help in "that" department.  My favorite is the chocolate chip, of course. Followed closely by the chocolately peanut butter variety!
How would you like to "Plus Up" your purse? I have a $75 Gift Card along with a coupon for a box of Kellogg's FiberPlus bars for one lucky reader!
You will also want to follow @LadyFibarista on Twitter. On Fridays, the first 25 people to send a message to @LadyFibarista with the hashtag #fiberfriday will receive a coupon for a full value box of Kellogg's FiberPlus bars.
---
How to Win?
Prize: $75 Bank Issued Gift Card, Coupon for a box of Kellogg's FiberPlus bars
You can enter up to 3 times with the following methods:
1. Leave a comment with why you need to Plus Up your purse! If you want to include a photo in your post, that would be fun! :)
2. Leave a comment on the Bargain Briana Facebook Page on why you need to "Plus Up" your purse. Become a Facebook Liker of Bargain Briana on Facebook.
3. Send a tweet on twitter letting us know why you need to "Plus Up" your purse! Please include @bargainbriana AND #plusup in your tweet!
Please leave a comment for each additional entry.
Giveaway Ends 11/30/2010.
Winner will be chosen by random. Be sure bargainbriana@gmail.com is in your safe sender list as you don't want to miss the email if you are the chosen winner. You can read the entire Bargain Briana Plus Up Your Purse Giveaway Rules.
Giveaway products were provided by the  Zócalo Group . Post was written 100% by me. Read more on my Disclosure Policy.
Want to win more? Enter to win the rest of my current giveaways!