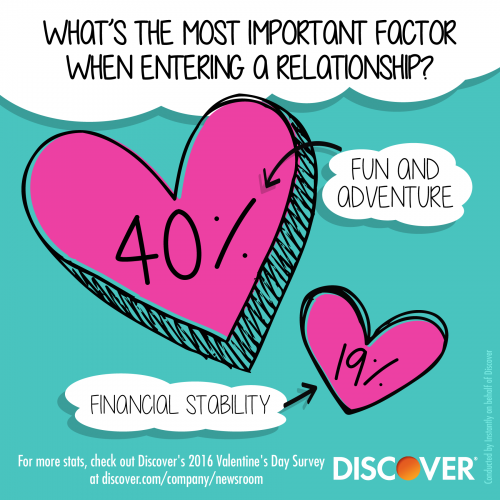 With Valentine's Day quickly approaching, I always find it really interesting to read polls to see what's going on in the minds of people. Discover never disappoints with their polls. Recently, Discover's 2016 Valentine's Day Survey revealed when asked to pick which was the most important factor when entering into a relationship, "40 percent chose fun and adventure, followed by physical attraction at 29 percent, financial stability at 19 percent and starting a family at 12 percent."
Financial Security or Fun? Which would you choose?
So, 19% of people chose financial security when it came to entering a relationship. The majority of survey takers said that fun and adventure were most important. I know where I stand, but I think it would be fun to find out from my readers what they think.
However, as you dig more into the survey, you find out that once the relationship gets more serious, the significant other is more focused on the other's finances. Once the two people are engaged, 82% of people place the other's financial security as the most important factor. The poll also shows that once engaged, a 44 percent of couples communicates about their finances at least once a week.
Valentine's Day Gifts
My husband and I always do Valentine's gifts. I thought I would continue reading about what Discover's 2016 Valentine's Day Survey said about Valentine's Day spending trends. "Overall, consumers say they'll spend an average of $143 on their sweetheart this Valentine's Day, with Millennials, ages 18 to 34, planning to spend the most at $185 on average. That figure is more than double the $70 that Baby Boomers, ages 55 and over, plan to spend."
Paying for the Valentine's Day Gifts
Of course, most people are paying for those Valentine's Day gifts with credit cards. Compared to ten years ago, credit card use is supposed to be up 26%. And the use of cash will be down 28%.
More About Discover
I know many of you have heard ofDiscover and so have I. Discover Financial Services is quite popular because they are a direct banking and payment services company and one of the most recognized brands in U.S. They began their financial journey in 1986. Some of their main financial focuses are on the Discover card, America's cash rewards pioneer, and offers private student loans, personal loans, home equity loans, checking and savings accounts and certificates of deposit through its direct banking business. For more information on Discover as a company, click here.
About Discover's 2016 Valentine's Day Survey
The national survey of 2,023 consumers ages 18 and over was commissioned by Discover and conducted by Instantly, an independent survey research firm, from January 19 to 22, 2016. The maximum margin of sampling error was ±5 percentage points with a 95 percent level of confidence.
Keep up to date on all the latest Discover news on Discover's Facebook page.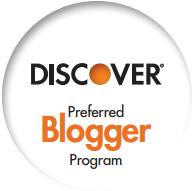 My views are my own and do not necessarily reflect the views of Discover Products Inc. and its affiliates. This post was sponsored by Discover Card. Rest assured, this Post was written by me and was not edited by the sponsor. Read more on my Disclosure Policy.