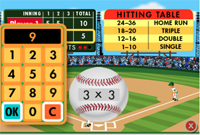 I love FREE apps, especially ones that are fun and educational for the kids. You can download 10 Everyday Math apps by McGraw-Hill Education for your iPhone, iPod Touch, or iPad for FREE from now until Sunday, April 17, 2011. This app is targeted for students in Kindergarten through 6th grade.
Here's the apps you can download for free:
Divisibility Dash
Baseball Multiplication
Beat the Computer (Multiplication)
Equivalent Fractions Solitaire with Pictures
Monster Squeeze (Greater Than, Less Than)
Top-It Addition
E-Flashcards (comes with a Science set, can download more for free)
Top-It Subtraction with 2-digit numbers
Tric-Trac
Name That Number (Addition, Subtraction, Multiplication, Division)
Remember, this expires on Sunday, so download 10 Everyday Math apps today!
Thanks, Northern Cheapskate!