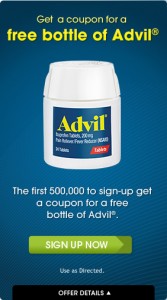 Head over to get your free coupon for a bottle of Advil.  Offer limited to the first 500,000 eligible registrants. Coupon will expire on 1/31/2011.
Coupon valid for one (1) package of either 24 count Advil Tablets or 20 count Advil LIQUI-GELS.
Considering someone in my household eats these like candy, I'm excited to get this coupon!  Though a 24 pk is like a week supply here!
Thanks, Drug Store Divas!