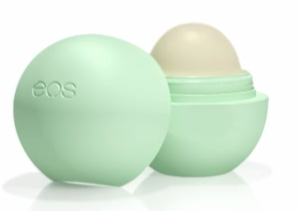 Anyone who has met me for even a nano second knows I have a lipbalm "issue." I consider myself a connoisseur of sorts in this realm. So this freebie is especially cool to me because as part of our "swag" at Blogher 2009, we were given a EOS sweet mint lipbalm. Let me tell ya, this stuff is GOOD. Plus it is packaged in a little sphere or as  my littlest one calls it an egg. Oh and did I mention, my "egg" now has teeth marks in it from said child!
My only complaint is that it is really hard to fit in your pocket. It is more of a purse lipbalm. Other than that, it goes on smooth, has a good "taste" to it, and it is easy to open. You also will NOT waste your lipbalm by it getting all mushed up in the top cap. Does that happen to anyone else? Anyway, I highly recommend this stuff. The only drawback is that is it $3.99/spehere. However, you can get a discount on Amazon by buying in bulk – just $2.99/sphere.
It is also 95% organic, petrolatum and paraben free. Plus, it has all sorts of good stuff in it that makes your lips feel smooth.
Anyway, onto the FREEBIE. You can visit EOS to request your FREE sweet mint smooth sphere. Let me know what you think!
Thanks Frugal is Fab!