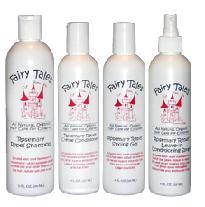 My kids have never <knock on wood> had dreaded lice yet. However, I did spend quite a bit of time with a Mission Group in Guatemala doing lice checks and treatments for kids who were infected very heavily with lice. Since then, I haven't been as petrified of lice, though, I most definitely don't want my kids to get it!
Elementary and Pre-School aged children are the most likely to get lice. The majority of the 12 million cases report annually are within that age group.
There is a product you can use to help prevent lice naturally. Fairy Tales Hair Care Rosemary Repel Collection are hair products infused with organic rosemary and citronella oils, which are proven to effectively and safely repel lice. No harsh chemicals!
Use the Rosemary Repel shampoo, cream conditioner, leave in conditioning spray, styling gel, or hair spray to help effectively prevent lice. Plus, it smells good! I've also noticed that I don't have to use conditioner on Sofia with this shampoo as I'm able to brush through her hair easily after just the shampooing!
You can track outbreaks in your area to see if you need to up your prevention with the FREE Facts of Lice Apple App.
I received items to facilitate this review via Team Mom. Post was written 100% by me and was not edited by the sponsor. Read more on my Disclosure Policy.