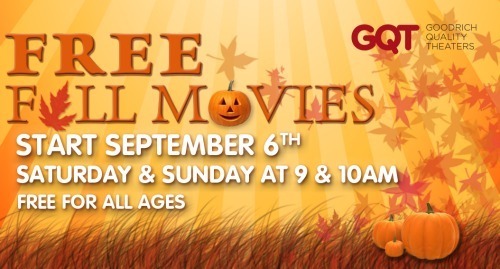 Starting September 6, 2014, you can enjoy FREE Fall Movies at Goodrich Quality Theaters. Every Saturday and Sunday at 9 a.m. and 10 a.m., see a select movie for free. Free for all ages.
Here's the Schedule: 
9/6-7: Night at the Museum
9/13-9/14: Walking with Dinosaurs
9/20-9/21: The Croods
9/27-9/28: Turbo
10/4-10/5: Epic
10/11-10/12: Rio 2
10/18-10/19: Mr. Peabody and Sherman
10/25-10/26: How to Train Your Dragon
11/1-11/2 –  Ice Age 4: Continental Drift
Another fun freebie to stretch your entertainment budget! Be sure to check out other fun free events for your family!