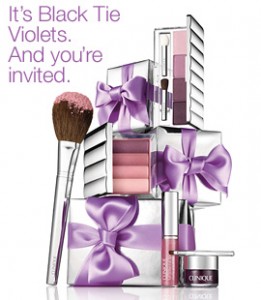 Clinique is offering 3 FREE Beauty Kits, which are not part of a bonus time promotion.
Visit http://www.clinique.com/locator/index.tmpl and scroll to the bottom of the screen where it says In Store Events.
Kit #1: There's a V.I.P. makeover courtesy of Clinique's award-winning formulas. And FREE travel sizes of Fresh Bloom Allover Colour and Long Last Glosswear SPF 15 with your consultation and any Clinique purchase.
Kit #2: Take home a mini beauty kit FREE with your consultation and any Clinique purchase—A 28-day supply of mascara and 7 days of a Clinique High performance moisturizer.
Kit #3: Let the expert dress up your look with shimmering shades of lilac and plum. Plus, take home a FREE mini-beauty kit for touch-ups—All About Eyes and Quick Eyes Cream Shadow in Rock Violet With any Clinique purchase.
Find a local Clinique Counter near you.
Thanks, Sweeties Swag!