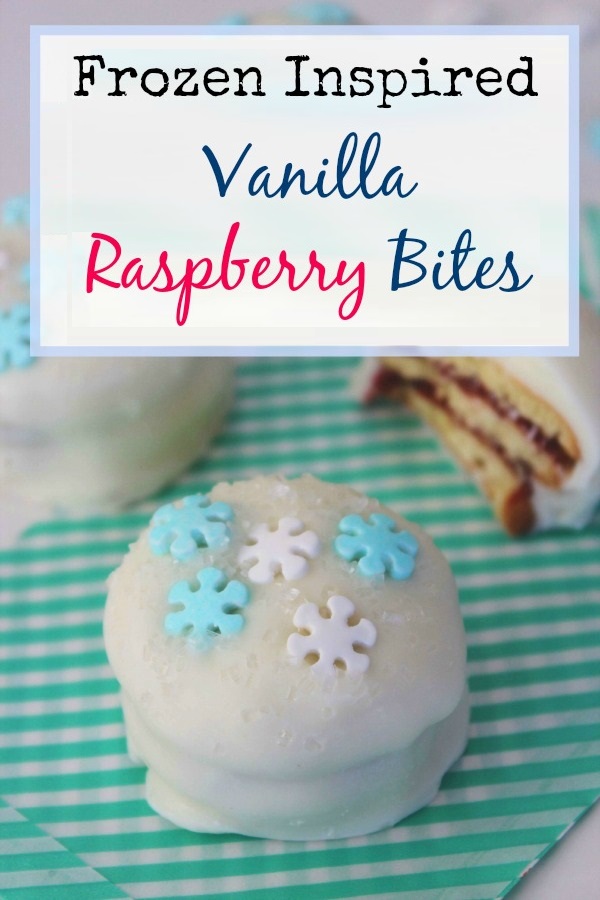 Does your family love the movie Frozen as much as we do? If so, I bet you would love this Frozen inspired snack just as much: Frozen Inspired Vanilla Raspberry Bites.
With vanilla wafers, fruit preserves, white chocolate and sprinkles, this fruity no-bake recipe is a great alternative to the usual holiday treats we all usually enjoy around this time of year. After all, there are only so many times you can eat grandma's homemade pie year after year before you start longing for something new and different to try–no offense to your grandma and her delicious pies.
These Frozen Inspired Vanilla Raspberry Bites have everything you could want out of a fun winter-time desert. They offer a sweet flavor, a satisfying crunch, and of course–you can't ever go wrong with white chocolate and sprinkles! They are just different enough to be interesting without being so different that no one will want to eat them. After all, they look an awfully lot like chocolate covered Oreos after all is said and done.
Have your children help you make these. They'll have fun layering each new cookie on, and it's a great way to teach math skills like counting, grouping, measurement and multiplication as well–depending on how old your children are. They will have a great time with the sprinkles, and baking is a great way to bond with your children in the middle of a busy holiday season. Plus, you could even enjoy them while watching Frozen–sounds like a great Friday night to me!
Don't just pin this recipe and forget to make it (though, I'd love for you to pin it!). Go ahead and actually make it too!
Oh and have I told you about that time I stayed at Cinderella's Castle?????? YEP, THAT really happened!
Print
Frozen Inspired Vanilla Raspberry Bites
---
48

Vanilla Wafers

1/3 cup

Raspberry Spread or Preserves

12 oz

White Candy Melting Chips
Candy Sprinkle Decorations
---
Instructions
Line a baking sheet with wax paper.
Take one wafer and place flat side down top with 1/2 teaspoon of preserves.
Place another flat side down on top of the first and spread the top of it with 1/2 teaspoon of preserves.
Top with a third wafer place flat side down place on prepared sheet.
Repeat 18 times.
Place in freezer for 20 minutes.
Melt white chocolate by microwaving for 45 seconds, stirring and repeating until smooth and melted.
Place each bite (one at a time) into melted candy with a fork and cover completely with melted chocolate. Gently shake off excess.
Place back on prepared pan and sprinkle with decorations.
Refrigerate for 30 minutes to set candy.
---
Recipe Card powered by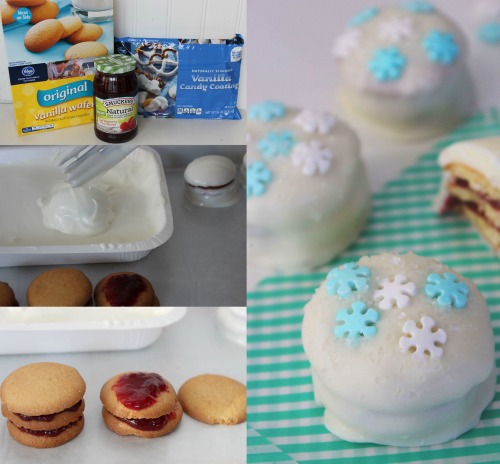 We've teamed together with a group of awesome bloggers to bring you more sweet and savory holiday recipes! Check out these delicious recipes!
Holiday Sweets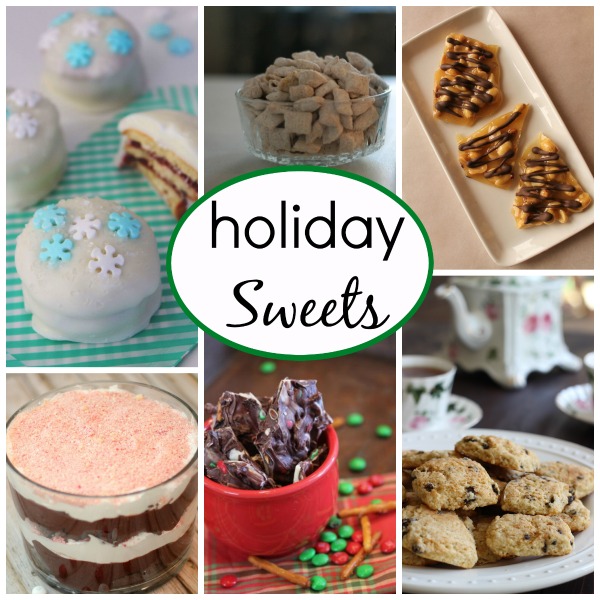 Savory Treats
View the Recipe Index for a complete list of recipes. For the most recent vegetarian recipes posted on the blog, go here. To view all the recipes post on the blog, go here.