Who remembers Furby when it was first launched 15 years ago? I'm almost a little embarrassed to admit that I had one when I was in high school! I'm excited to announce that Furby is back and he/she has some high tech upgrades:
FURBY can move its eyes to show you a variety of feelings through digital LED eyes.
Listen as FURBY speaks in both FURBISH and English
FURBY has a real personality! The more you interact with FURBY, the more its personality changes.
Sit FURBY down with another FURBY friend to watch them speak to each other.
Day 10 of the FURBY count down is now here and what does day 10 bring? An adorable hot pink FURBY just for you! Plus, today you can upload your picture inside a fun FURBY frame.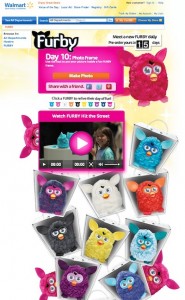 Looking for FURBY? Look no further! Go here to pre-order your FURBY on August 3 at Walmart.com. Or come back on September 16 to purchase your FURBY on Walmart.com.
How would you like to win a $60 Walmart gift certificate so you can purchase a new Furby when the pre-order begins on August 3, 2012? We have two $60 Walmart gift certificates to giveaway to two lucky Bargain Briana readers. Just enter via the Rafflecopter giveaway below.
This giveaway was sponsored by Lunch Box. Rest assured, this Post was written by me and was not edited by the sponsor. Read more on my Disclosure Policy.