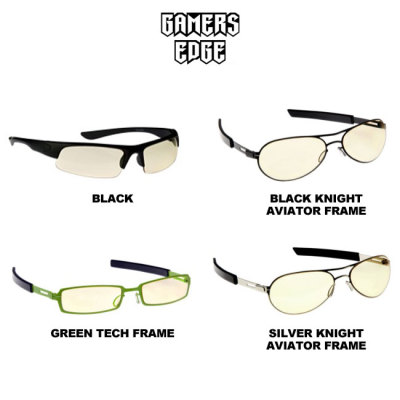 I've never heard of these gaming glasses but it is a intriguing concept! Right now Tanga has a deal on these Gamer's Edge Gaming glasses for $16.99 (List $39.95.) Shipping is $3.99.  I wonder if these would be good for someone like me who is in front of the computer all day!
Whether you're a casual gamer in for a few frags, or you dig in for a 12-hr professional tournament, your performance is only as good as what you see on the screen! With these Gamers Edge Video Gaming Glasses, you not only protect your most valuable asset, your peepers, you'll also improve your game!

Put these on and you'll notice increased sharpness in screen images and colors, giving new dimension to your games! The specially formulated iEdge Lens is UV-Safe and designed to provide crucial protection from digital glare/artificial light which will prevent eye fatigue and strain giving you improved gaming endurance, recovery time, and overall performance!

And they look stylish to boot! With 4 styles to choose from, they are perfect for all gamers.
Want to save loads of money this holiday season? Find the latest holiday deals I've posted about. You can also check out the Hot Holiday deals,  Giveaways, Online Coupon Code Database, and my Holiday Gift Guide. These pages are being updated often.