I will admit that I have obsession with several television shows. Often times, life gets in the way of being able to watch my favorite shows during their original air time. Life is busy and when I don't have time to watch my favorite NBC shows like "The Blacklist," it is fantastic to know that I can watch it with TVEverywhere.
What is TVEverywhere? As part of your existing cable subscription, you can login with your same user name and password that you use to pay bills online to access all the great content available on the NBC brand website. The Blacklist is on hiatus right not but you can catch up before the series returns on January 7, 2016 by streaming The Blacklist with the TVEverywhere app.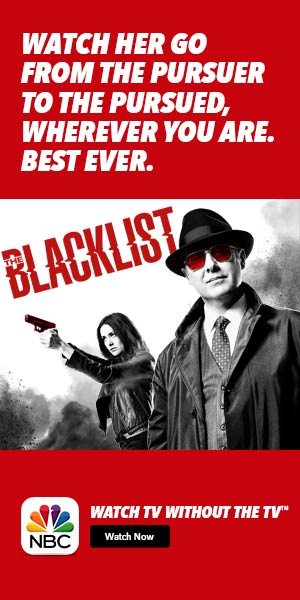 Unfamiliar with The Blacklist on NBC? This show starring James Spader and Megan Boone is in its third season. Here's a summary:
In the third season of the hit NBC drama "The Blacklist," FBI Agent Elizabeth "Liz" Keen (Megan Boone, "Law & Order: Los Angeles") is now a fugitive and on the run with criminal mastermind Raymond "Red" Reddington (James Spader, "The Office," "Boston Legal"). With Assistant FBI Director Harold Cooper under investigation, a conflicted Agent Donald Ressler (Diego Klattenhoff, "Homeland") leads the FBI Task Force on a massive manhunt for Liz and Red – more dangerous together than apart since Liz has expert knowledge of FBI procedures and no one exceeds Red's vast resources. As they struggle to stay one step ahead of their former colleagues and Liz immerses herself into Red's underworld of disreputable contacts and covert operations, will the notorious list of new Blacklisters this season play a key role in their survival or their demise? Liz is on an unpredictable journey of self-discovery and all the pieces of her life, including her indefinable relationship with Tom (Ryan Eggold, "90210"), will be drastically challenged as she continues to believe Red holds all the answers.
This is a show that keeps you on your toes with all the unpredictable storylines. It also melts the exciting drama with emotional and relationships angles.
With TVEverywhere, you can watch anywhere. Even if you are traveling and are away from home, you can watch your favorite NBC shows on your computer.
Here's How: 
Head over to the website here.
Click on the episode you want to watch.
Log in with your current cable provider.
Enjoy watching your favorite NBC TV shows!
Get caught up on The Blacklist before it returns on January 7, 2016!
This is a sponsored post. Rest assured, this Post was written by me and was not edited by the sponsor. Read more on my Disclosure Policy.