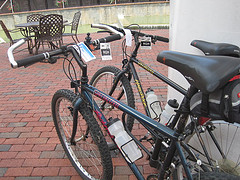 One of the best exercises can be turned into a great day out.  Dust off your old bicycles and put some extra air in the tires.  You and your family or a friend can bike near or far, fast or slow.  If you have not used your bicycle in a long time, I would suggest taking it slow at first and not spending too much time sitting on those uncomfortable seats, but after a few bike rides you can always test the waters and see if you can go a little further, ride a little faster, or explore a new route.
My hometown is one of the best places to ride a bike because it's not very crowded and there's plenty of places that are within a reasonable riding distance.   Now that the weather is starting to turn, I am excited to get back out there and ride around.  If you're looking to burn more calories you will need to use the stationary bike at your local gym, but if you're looking for a good way to do something different with your exercise- just hop on a bike and go!
If you get really good at riding and also like to swim and run you could look in to training for a Tri-Atholon which is a race that combines running, biking, and swimming.  As my most recent Chinese fortune cookies says, "Winners forget they're in a race, they just love to run!"  Same goes for exercise.
Get Fit Deals: