Most of my 'Get Fit Friday' posts are exercise related but as most of you know diet is equally important to your overall health and wellness.  Successful weight loss programs require that you maintain a steady balance of proper diet and proper exercise prescriptions.  It is difficult, however to provide a full list of 'proper' diets for every individual.  Many specific factors must be attributed such as: personal preference, food allergies, medications, or other individual needs. You must remember that guidelines such as the food guide pyramid are simply just that.  They are not 'rules' but rather 'suggestions' and a starting point to create a diet that works for you.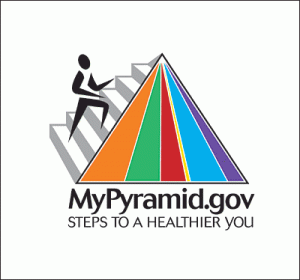 On the new food guide pyramid, daily recommendations are as follows:
Grains: 6 Ounces  (Half should be whole grains)
Vegetables: 2.5 Cups (Variety)
Fruits: 2 Cups  (Variety)
Milk: 3 Cups  (Low Fat or Fat Free)
Meat & Beans: 5.5 Ounces (Lean Cuts, Seafood and Beans, Avoid Frying)
Fats & Oils are needed in moderation
These daily amounts are recommended on a 2,000 calorie diet.
The Food Guide Pyramid online also recommends that "adults should participate in 30-60 minutes of moderate to vigorous exercise on most days of the week" (3-5 days/week).  "Sixty-Ninety minutes of exercise on most days of the week may be need to prevent weight gain or maintain weight loss."
All in all, healthy lifestyles are a constant work in progress!  I do not recommend  'fad diets' or extreme supplements.  Many people search for the 'quick fix' for diet and exercise, but they are missing the bigger picture.  Reaching your appropriate weight takes hard work!  It must be a lifestyle change rather than a change of motivation.  While trying to attain your weight loss goals you should be focusing on your overall health and wellness as well.  The 'fad diets' or extreme supplements can be harmful to you in many other ways causing digestive issues, increasing your heart rate, or introducing harmful chemicals to your body.  Where you may get the temporary results you desire, it is likely you will be facing the same or similar problems in the months or years to come.  Enjoy the benefits of diet and exercise today!  Consider it a lifelong science project.
Get Fit Deals: