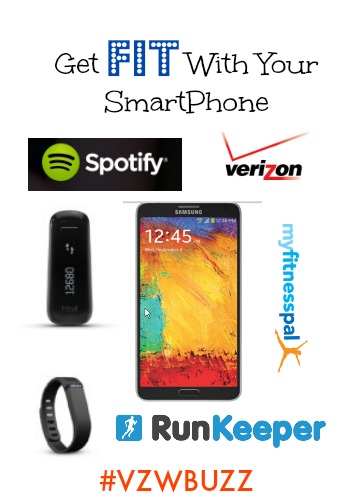 For the past couple of months, I have been testing out the Samsung Galaxy Note 3 on the Verizon 4G LTE network. I have been a iOs gal for the past 5 years or so and I've never been able to find a Android device that I like until now. I love that all of my favorite apps seem to be working so much better and faster than on my current device. I loved the device I have been reviewing SO Much that I just upgraded by iPhone to the new Samsung Galaxy S5, which is fantastic. I will tell you more about that someday but right now I want to discuss how your smartphone can help you get fit.
I recently tried out the Jawbone UP app which tracks your activity via steps and converts those steps to miles. I didn't use it for long because I really love my FitBit. Both devices do the same thing but my personal preference is the FitBit One.
Measure your wrist to see which size  Jawbone UP is best for you. I was right on the line of fitting into a  small or a medium. I choose to go up to a medium because I don't like tight items on my wrist. Really, I don't like to wear anything on my wrist. This was probably a bad mistake as it was a little too loose, which made it feel odd and it would also slip off my wrist especially when I tried to use it when I was sleeping to track my sleep. I would also find it under my bed! If you are on the edge of either size, I think you should go down a size to have the Jawbone UP fit better. I use the FitBit One which clips on to your pants or fits in your pocket so it is more comfortable for me.
To get wireless blue tooth enabled syncing with the Jawbone UP you have to upgrade to the Jawbone UP24 for an extra $49. Otherwise, you have to plug the Jawbone UP into your phone to upload your data. I love having real time data with my FitBit as I often us it as motivation when I'm exercising to keep going for another 5 – 10 minutes to hit my goal.  I know there are people that love that Jawbone UP but I'm going to stick with my Fitbit. Both apps are free after you have purchased the product. The Jawbone UP app isEither one is great if it helps keep you motivated!
Because I love tracking data, I also use the Runkeeper App, which keeps tracks of all my activities. I use it when I go for a run or a walk outside and it gives me real information on distance, time, pace. I also use it to log my activities at the gym, such as when I use the elliptical machines or the treadmill.
This app is not directly fitness related but it helps keep me active. If I'm on the treadmill or the elliptical, I like to read a book on the Kindle App or surf my favorite news sites. This keeps me entertained and from going crazy with boredom. Sometimes it actually keeps me motivated to keep exercising because I want to finish one or two more chapters. The Samsung Galaxy Note 3 has a large enough screen that I can read the words without too much trouble while keeping a fat burning pace.
Good music is a must when exercising. Spotify sounds great on the 4G network. The app is free but you can upgrade if you want access to songs directly. I created my own exercise playlist with upbeat songs to keep motivated.
MyFitnessPal is a free calorie counter app. You can also integrate your activity from the Jawbone Up, Fitbit, or Runkeeper app to effortlessly track your activity within that app. I love that you can scan the UPC codes from your foods and it will find the item, which reduces your searching time.
What are your favorite fitness apps to use with your smartphone?
Disclosure:  As member of a pretty cool team of influencers, I received the Samsung Galaxy Note 3 with line of service from Verizon. No additional compensation was provided nor did I promise positive feedback.  All opinions are my own. Learn more on how I disclose on my Disclosure Policy page.