Have you entered my Girls Grill too Weber Grill Giveaway yet? Well, ya know need to because I will be picking the winner on July 6th! You can win a One-Touch Silver Charcoal Grill (approximate value $100).
In addition to the awesome giveaway for you, Weber sent me a Weber Spirit E-320 to try out some new recipes on. While, this is a #GirlsGrillToo experiment, I did like my awesome husband assemble the actual grill. I'm sure I could have done it, it just would have taken me a week longer to get it done when it only took him about an hour.
Facts about this grill:
3 Stainless Steel Burners
36,000 BTU/hr input
12,000 BTU/hr input side burner
Electronic Crossover Ignition System
Porcelain-Enameled Cooking Grates
Porcelain-Enameled Flavorizer Bars
Primary Cooking Area = 424 sq. in.
Total Cooking Area = 536 sq. in.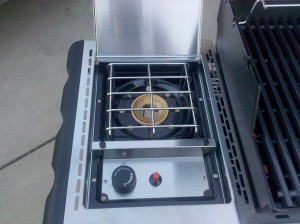 Like I told you previously, we have owned Weber Grills for many, many years. We have always been pleased with the output and quality of their grills. So we were really excited to get this one, especially when I saw the side burner, which will be so convenient for cooking side dishes.
Another really cool feature that the Weber Spirit 320 has is the Electronic Crossover Ignition System.  Near the end of assembly, we had a few leftover parts, one of them being a AAA battery. The Ignition system is powered by that battery and the grill lights up almost instantly when you push the ignition button. We were quite amused watching this happen!
Since I was really excited our new Weber Grill, I decided to grill out for once. That's a rare occasion for me as Bryan usually does most of the grilling around our household. However, I was excited to try the new grill and try out grilling some vegetables! Plus, it meant less dishes to clean up.
I decided to make my first attempt while the Weber Spirit 320 relatively simple. Therefore, the menu consisted of hamburger/veggie burgers, grilled onion/mushroom mix, and grilled asparagus. Since this week has been kind of hectic with me traveling and the upcoming holiday, I purchased pre-made hamburgers and used one of my frozen veggie burgers.
So let's get to it then!
I started out by slicing up some mushrooms and onions in the house. I used my handy new Pampered Chef grilling basket. I brushed on just a bit of olive oil.
Hamburgers/Hot Dogs on one side, veggies on the other because I'm weird like that. Don't want to taint my vegetables with meat juice.
My friend, Donna, who had stopped while "we" were assembling the grill, assured me asparagus was easy to cook on the grill and I didn't have to use a special basket. I assured her that I would manage to lose a few spears through the grates because I'm just not that coordinated! I lost a few spears but not many. The ones who survived where yummy! I just doused these in olive oil and added a little seasoned salt.
I may have been a bit distracted by the black helicopter flying over our house. It was pretty low before I was able to snap the pic.
Anyway….
With all the prep time I spent (haha!), I warmed the frozen Morningstar Black Bean Burger on the grill. While, I prefer to just make homemade veggie burgers, like I said I was short on time this week. Really, I didn't think grilling a frozen veggie burger would make a difference in the taste but it did! It didn't take long to warm up, so once it was done, I placed it on the convenient warming rack and topped with Pepper Jack Cheese.
I added a bit of KC Masterpiece Barbecue spice to Bryan's hamburgers because I know he likes that. Since I like him (alot), I thought that would be a nice thing to do.
I think the dinner turned out delicious. I heard no complaints from the household members in attendance, which is always a wonderful thing.
How is this Weber Grill Money Saving?
Save Time (very little kitchen clean up)
Save Money by having a long lasting quality grill
Save Money by cooking at home quickly, easily, and tasty!
I'm sure many of you will be grillin' out this holiday weekend. When your current grill royally ruins your dinner this weekend, think about purchasing a Weber so your next holiday will go smoothly!
This post was sponsored by Weber. Post was written 100% by me and was not edited by the sponsor. Read more on my Disclosure Policy.
Stop by $5 Dinners, Balancing Beauty & Bedlam, In-Store only Christmas Price Guarantee, and Lynn's Kitchen Adventures for more chances to win a Weber Grill.