When we went to the Dominican Republic with World Vision this past spring, Hannah and Matthew were just giddy over the prospect of getting to see goats.   I was a little mystified. However, they were both giggling like school girls seeing these wonderous creatures (this link will take you to Matthew's account).
It is amazing what a simple goat can do to help families living in poverty. They help provide sustainability for many years for these families.  Can an iPod do that? Probably not and I know all the toys and stuffed animals I recycled this weekend will not do that!
This holiday season when you are going through your gift checklist, considering giving a goat through World Vision.  You may never be able to personally see what affect your goat has but we saw it in the Dominican Republic and it was AMAZING!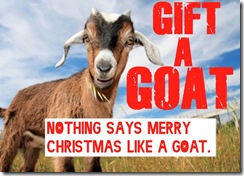 Here's what World Vision says about giving a goat:
Give a goat. Goats nourish hungry children and families with healthy milk, cheese, and yogurt. Goats also give a much-needed income boost by providing offspring and extra dairy products for sale at the market.


A healthy dairy goat can give up to 16 cups of milk a day. Goat milk is easier to digest than cow's milk and is an excellent source of calcium, protein, and other essential nutrients that growing children need. Goats are practical animals — flourishing in harsh climates while producing valuable manure to fertilize crops and vegetable gardens.


Teopista, an AIDS orphan and World Vision-sponsored child in Uganda, is proud of her first gift ever — two donated goats that will help provide her with a brighter future. "I was very happy when I got the goats," says the 10-year-old. "They will be of use to us. We will get money from them. I thank World Vision for thinking about me, too."


Her aunt Restetuta feels the same way. "When the goats give birth again, we will sell off some of the younger [goats]," says Restetuta. "We will use the money to buy Teopista a school uniform, books, and beddings. We can also buy food with some of the money. I thank World Vision so much for all the help they have given us … we know that those goats will be of benefit to us in future."
Also, please consider sponsoring a child today for just $35/month.
I will also be sharing what Andrea and I have up our sleeves to help the people we met in the Dominican Republic. I'll be sharing our plans soon!