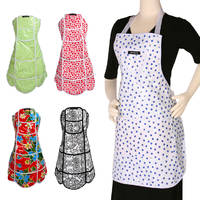 Save your clothing from huge messes with this Grandway Gloveables Oil-Cloth Apron for just $9.99 with FREE shipping! I probably should wear an apron around 24-7 to save my clothes from messes! LOL! Do you wear an apron?
 The feminine design complements your outfit while protecting it from craft projects, harsh chemicals, and muddy gardening tasks. Convenient pockets store all your essential tools while the spill-proof finish keeps stains off your clothing. *Features* * Protects clothes from water, chemicals, dirt, and more * Roomy pockets hold tools * Long lasting, constructed of high quality Mexican oil-cloth Gloves Not Included
Want to save loads of money shopping online? Check out the latest online shopping deals.