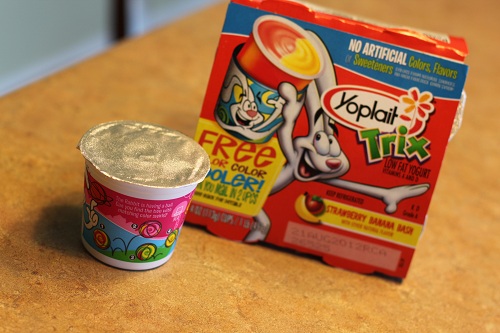 Before I could get the Yoplait Trix Yogurt out of the package, the two youngest kids were excitedly running into the kitchen to get their share. Whenever I purchased Yoplait Trix Yogurt, it doesn't stay in stock for long. The kids are lured in by the bright colors but stay for the delicious taste!
"Trix are for kids," but now Yoplait Trix is giving moms reason to love it. Yoplait Trix Yogurt has been reformulated and does not contain any high fructose corn syrup, artificial flavorings, or sweeteners. Same great taste without all the unnecessary additives. With these changes you can feel very comfortable about adding this to your child's lunch box or for an after school snack. Surprise them with fun flavors like Cotton Candy, Raspberry Rainbow, Strawberry Banana Bash, Strawberry Punch, or Triple Cherry.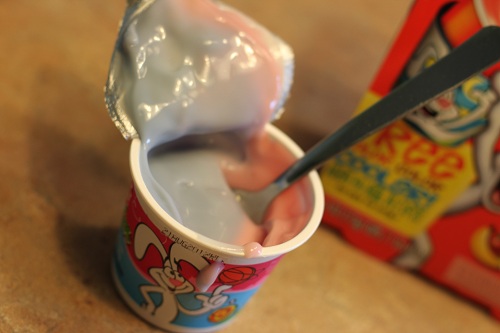 I was informed at this point that you don't stir the yogurt…it's better apparently if the colors are swirled like packaged! The size of the package is perfect for young kids. Often times with other sizes, we end up with wasted yogurt as it is just too much for them.
Yoplait Trix Yogurt is a great after school snack or a great addition to my kids' lunch box. All Yoplait for Kids products contain at least 10% of the daily recommended value for calcium and vitamin D. Make it even healthier by topping with fresh blueberries or strawberries. We have plenty of freshly picked blueberries right now!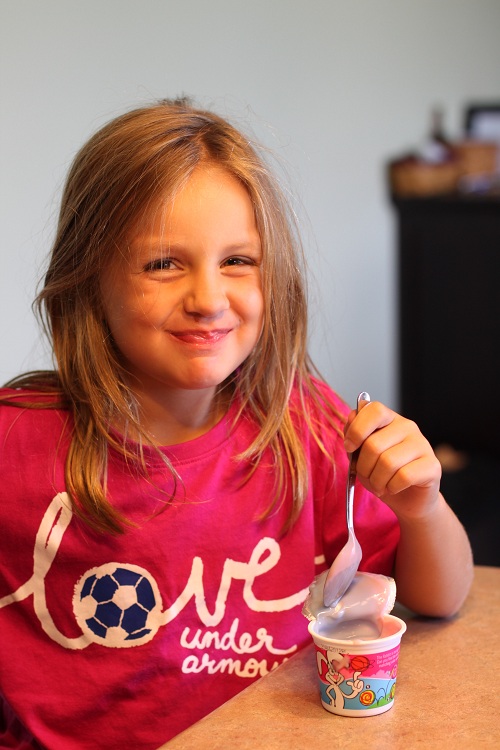 Mail in Rebate Alert: Look for specially marked packages for a mail in rebate for a free color cooler with two original UPC barcode symbols. Limit four per family or household. This offer expires September 25, 2012.
"Trix are for kids" but unwanted additives definitely are not. That's why Yoplait® Trix® Yogurt comes in silly, swirly flavors kids love, without high fructose corn syrup, artificial flavors, or sweeteners. It's still the same bright, fun, colorful snack, only better. You'll love that they love it!
Maybe a little too much fun while trying out the new Yoplait Trix Yogurt?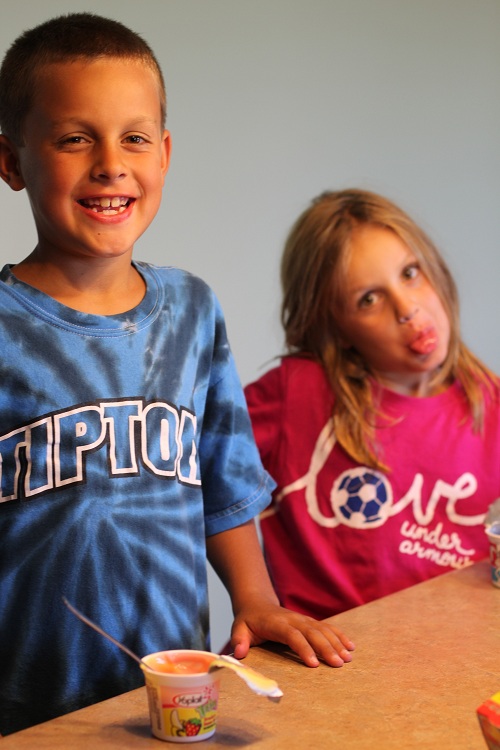 Compensation was provided by General Mills via Glam Media. Rest assured, this Post was written by me and was not edited by the sponsor nor are they indicative of the opinions or positions of General Mills. Read more on my Disclosure Policy.