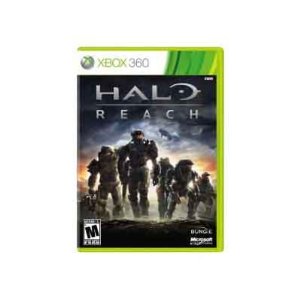 Get a Halo Reach Full Game Download Card for just $13.99 (List $29.99.)
Product Features: 
Download Card. Code may not be sent via email.
Meet Noble Team. For the first time, players will fight alongside a squad of iconic Spartan soldiers, each with deadly talents as unique as their individual personalities and customized gear
An intense campaign. Live the events that set the stage for the Halo trilogy as the UNSC and Covenant clash at the height of their military power
Stunning technical advancements. Halo: Reach takes a massive leap forward through all-new engine technology designed to take full advantage of next-generation graphics, audio, special effects, AI and animation
The definitive multiplayer experience. Halo: Reach builds on the success of its predecessors, setting a new standard for competitive gameplay, customization, variety and community integration
Unparalleled feature suite. Halo: Reach expands on the industry-leading suite of features found in Halo 3, including four-player cooperative
Ships free with Amazon Prime or Super Saver Shipping. Find out how to get a FREE one month trial to Amazon Prime.
Want to save loads of money this holiday season? Find the latest holiday deals I've posted about. You can also check out the Hot Holiday Deals,  Current Giveaways, and my Holiday Gift Guide. These pages are being updated often.