This holiday cleaning tips post is brought to you by Swiffer® as part of a Type-A Parent Community Sponsored Post.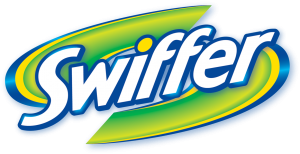 Want my best holiday cleaning tip? Hire a professional if you can. It can be your Merry Christmas present to yourself. It will lessen your stress during the holiday season. If you can't hire a pro and even if you hire a pro, you will still need to keep things freshened up in between cleanings. Here's some of my tips:
When baking, clean as you go. Wash the dishes as you as it won't seem like such a huge task later.
Keep cleaning supplies in each bathroom to make it easy and convenient to clean up messes when you see it.
Keep cleaning supplies ready to go….empty out vacuum or keep new bag in vacuum, etc.
Do the middles. If you don't have time for a perfect cleaning, settle for doing quick sweeps to get visible messes.
I normally keep my Swiffer WetJet loaded with a new pad and a full bottle of cleaner so it will be ready when needed. I will use the steam mop occasionally for deep cleaning but it is more of a chore since I have to make sure the reusable pads are clean. I was excited (I know I'm a dork) to receive the new Swiffer SteamBoost Steam Mop starter kit to try out!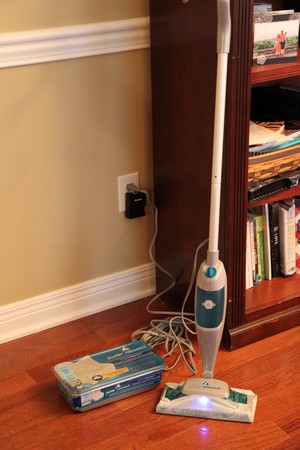 It is easy to put together! Put on your Steam Cloth and add water to the mop. Let it warm up for a few minutes and then you are good to go. It had a very light scent to it, which was nice. It was also very light and easy to use and the steam wasn't crazy steam if that makes sense. It was a light steam and seemed to pick up quite a bit of dirt. There was a couple of sticky spots on the floor, who knows what it was? With kids it seems like I find sticky spots in the oddest places. Normally I have to use some elbow grease to get those spots lifted but with the Swiffer SteamBoost Steam Mop I just made two easy passes over it and the stick spot disappeared!
I also love that it is light and easy to maneuver compared to my previous steam mop!
Here's the junk I found on my floors and they are cleaned weekly but we have had quite a bit of traffic in the house since that last cleaning!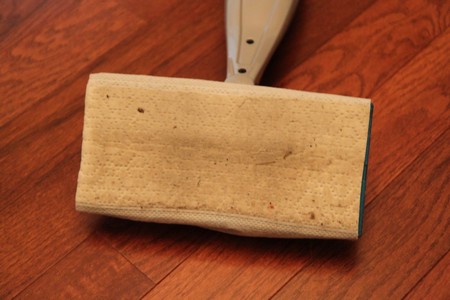 The only negative I have is the cord. I hate cords. I hate wrapping them. I hate unwrapping them. I hate having to find a outlet. I hate that I have to find a new outlet when I run out of cord. I have that with my other steam mop so that's no surprise.
This sponsored post was brought to you by Swiffer®. For a limited time, get a $15 prepaid card when you purchase a SteamBoost Steam Mop Starter Kit between 11/24/13 and 12/31/13. Swiffer BISSELL® SteamBoost™ combines a dirt-dissolving cleaning solution with the power of steam for a deep clean that gets messes mops can leave behind. Also be sure to like Swiffer on Facebook and follow @swiffer on Twitter.
This giveaway was sponsored by X company. Rest assured, this Post was written by me and was not edited by the sponsor. Read more on my Disclosure Policy.