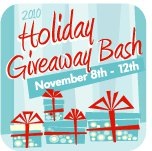 Thanks to all who entered the November Holiday Giveaway Bash at the beginning of the month! There was over 14,000 entries on just this site and I appreciate each and every one. I hope you had fun! Now, it's time to congratulate the winners!
Winners have all been notified. It could take several weeks for the prizes to be received. Please be patient while the companies are shipping these items out!
Stay tuned for Holiday Giveaway Bash #2, which will start on December 6, 2010. We have some more great prizes to spoil our readers with! Including  In the meantime, be sure to enter the current giveaways on Bargain Briana including an iPad, iPod shuffles, and a $75 Fiber Plus Up Your Purse giveaway!