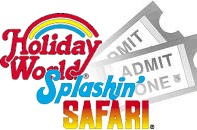 Holiday World in Santa Claus, IN is one of those "hidden" treasures in Indiana. It is the best deal on an amusement park. We've been several times and would go more if it wasn't a 4 hour drive. We have found a great deal to score you Holiday World discount tickets.
The deal below is no longer valid. A few ways to score discounted tickets to Holiday World are:
You can also try promo code DISCOUNT832 or DISCOUNT606 for the best price of the season.
Right now you can score $10 off your ticket order when you buy online and use coupon code CELEBRATE at checkout.
Some details about this promo code:
The promo code, when used to purchase tickets on our website between now and June 19, will discount your tickets by $10 each: down to $34.95 for General Admission and $26.95 for Guests-under-54″ and Senior (60+) tickets. Please remember, these deeply discounted tickets may only be used on these five days: from Sunday, June 15 through Thursday, June 19, 2014.
The water park is fantastic and there are rides for kids of all ages.  I get a little queasy on the rides but Bryan convinced me to ride the Voyage (similar to the Beast at King's Island) last time we went.  Somehow I also ended up riding the Pilgrim Cups (tea cup ride) with the children. Of course, that almost ruined the rest of my day….
Some of the more popular rides also have "holding" areas for the kidlets if both parents want to ride together. It kind of reminds me of a pig pen.
My kids love the water area probably the most and it is usually the most crowded area of the park. They have a new water ride too called the Pilgrim Plunge…no way are you getting me on that!
Holiday World Highlights:
Free Soft drinks all day long. They have drink stations all over the place.
Food in park is inexpensive. Everything we've had to eat is tasty and inexpensive. Not ridiculously marked up like some amusement parks.
Free sunscreen stations.
Clean and friendly.
Since we drive several hours, when we go we stay overnight and go to the park for two days. This gives us plenty of time at the park as well as not rushing or driving tired. I recommend staying in a nearby town to get the best deal!
This is a place the kids love going to even year after year! You definitely get your money's worth!
Have you been to Holiday World? What's your favorite ride, tip, or trick?