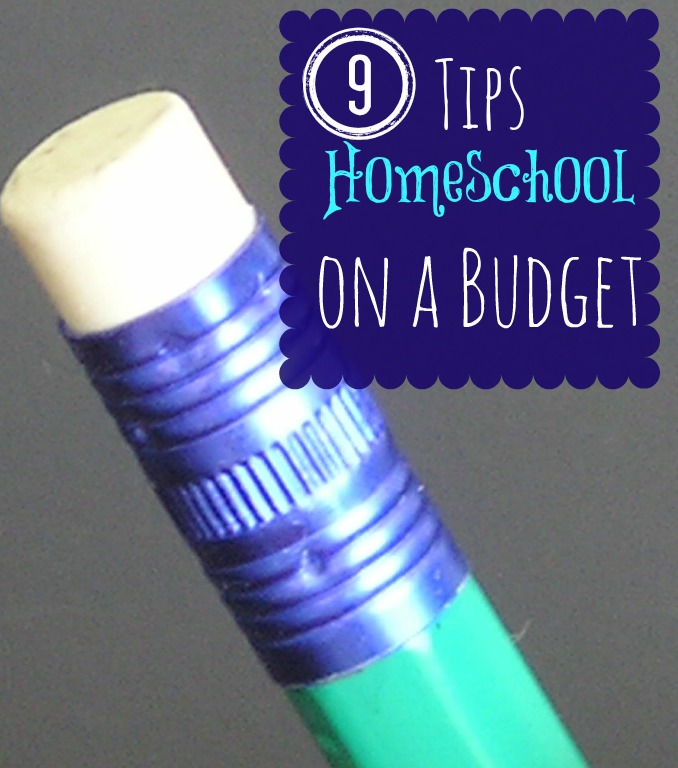 The following is a guest post from Danielle Garcia.
I started homeschooling 5 years ago and resisted spending money on just about anything unless it was necessary. I finally took a step back and realized that it would be ok to spend money on homeschooling, especially since I was saving money by not sending the kids to school in the first place. I still try to get the best deals on everything I do buy though and I take advantage of the many discounts and freebies that I can find. 
Tips to Home School on a Budget
Local Libraries
Utilize your local public and college libraries.Public libraries not only have great books that cover many subjects, but they also have great programs as well. Our local library offers story time, a chess club, book clubs for several age groups, and tons of craft/story activities. College libraries often have curriculum and school-type books that local residents can check out. They also will often have child-friendly activities.
Create Your Own Curriculum
Skip boxed curriculum and create your own. There are lots of free resources online, just type the words "free (insert subject of interest) lesson plans" in a search engine. There are also some sites with low subscription rates that will give you access to tons of printable worksheets/books. Enchanted learning is a favorite of ours. You can also check out this homeschooling blog where activities related to a theme are posted each each week. It is broken down by subject area and most of the activities are free or very inexpensive. This site FreeHomeSchoolDeals.com looks great too!
Network
Network, network, network. Find other homeschoolers in your area through Yahoo groups (type your city and the word homeschool in the group search box). I have done this in a few states and every time have had great results. The groups are a great way to find low cost field trips or to get enough people together to get the group discount rate for a place you want to visit. This is also a great way to find what local resources are available in your area for homeschoolers. Our city school district does a textbook giveaway every spring and it is through our Yahoo group that we learn the details. We also participate in a homeschool bowling league which is a better deal than any other bowling league I have ever seen ($2 a game, includes shoes and a trophy and pizza party on last day and you only pay on the days you attend). Our group has also arranged book swaps where everyone just brings what they want to get rid of (newbies don't have to bring anything) and it is a free-for-all. Another benefit of these groups is that there is often at least one certified teacher in the bunch and if you live in a state that requires an assessment or testing by a certified teacher, you already have one accessible. The members can also help walk you through any state requirements you may have.
Swap Tutoring
Along with networking is swapping "skills". If you are a math major, but can't speak a word of Spanish/French/German, find someone who does and swap tutoring with each other. Of course the subject areas are interchangeable.
Buy Used
Freecycle and craigslist are also great sources of homeschool materials. eBay is good if you really need something specific or really want to use boxed curriculum.
Check with Local School Districts
Find out if your local school district provides anything you can use. Some districts may allow your child to participate in sports or other activities. Some may provide textbooks or allow you to borrow materials such as microscopes.
Attend Local Events
Attend fairs and festivals and keep an eye open for free, local events. Some of our best learning opportunities have been in these locations. Fairs also often have lots of coloring books, pens, pencils, crayons, etc as well as links to websites with educational activities. We were also given free owl pellets to dissect once simply because I mentioned to a man at a bird refuge booth that we were getting ready to order some. Find FREE Events here.
Everyday Chores Can Become Learning Experiences
Turn everyday chores and errands into lessons. Cooking dinner is a lesson in nutrition, measuring, fractions, and home ec. Grocery shopping is a math lesson along with nutrition and home ec. Encourage the kids to talk ask questions at doctor's offices and use their "models" to teach while waiting to be seen.
Utilize Teacher's Discounts When Available
Take advantage of teacher's discounts where applicable. Many places offer homeschoolers the same discount they give to teacher's. Check bookstores, craft stores and office supply stores. In late-summer, Staples and Office Max had back-to-school events for teachers and gave away a bunch of school supplies (and breakfast!) to everyone who came. . They also allow teachers/homeschoolers to purchase more of their sale items. so when notebooks were on sale this fall for 1 cent, while others could only buy 5 at that price, I was able to pick up 25 for a quarter. Pizza Hut also offers their Book-It program to homeschoolers.
Do not be afraid to ask about teacher/student discounts and for teaching resources wherever you go. The worst that can happen is they say no. If they do say no, and it is a place that could benefit many homeschoolers, write up a business proposition explaining the benefits from the increased business. That is how our homeschool group got such a great deal on our bowling league. Life itself is one of the best and inexpensive ways to homeschool. Everyday questions that kids ask, whether it be how something works or where something comes from, can be turned into a quick lesson. Have them research the answer (or help them if they are too young) and find related activities to go with it.As you can see there are free lessons everywhere, you just need to know where to find them.
Buy Homeschool supplies online.
Danielle Garcia is a homeschooling mother of 4 living in Rochester, NY. She is also the owner and author of The Happy Wife and Homeschool Unit Studies blogs. She can also be found on Twitter, as The_Happy_Wife.