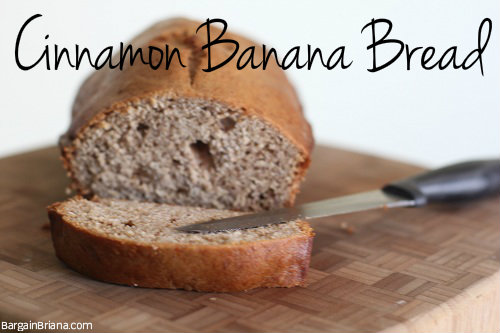 This Cinnamon Banana Bread recipe is one that I made on my Freezer Cooking Day. I have adapted it slightly from Not Your Mother's Make Ahead & Freeze Cookbook. Make ahead and freeze after cooking and cooling or use some ripe bananas! Makes a great breakfast, snack, or a dessert.
The instructions I'm providing is for one batch. If you want to double, triple, or quadruple for baking day, you can use this FREE online recipe conversion calculator.
Cinnamon Banana Bread
Ingredients
1-1/2 bananas
⅓ cup + 2 teaspoons half and half
1 egg
3 tablespoons vegetable oil
½ cup brown sugar
¾ cup all purpose flour
¾ cup whole wheat flour
¾ teaspoon baking powder
⅓ teaspoon baking soda
⅓ teaspoon salt
⅓ teaspoon ground cinnamon
Instructions
Combine bananas, half & half, egg, and oil in bowl until smooth. I like to use my KitchenAid mixer for this type of job. Stir in brown sugar.
In a separate bowl, combine all purpose flour, whole wheat flour, baking powder, baking soda, salt, and cinnamon. Slowly add the dry ingredient mixture to the wet ingredient mixture.
Pour into a greased loaf pan.
Bake at 350 degrees for approximately 1 hour.
Cool completely.
Notes
Freezer Option: Wrap in plastic wrap after completely cooled and store in freezer. I like to use freezer bags for these jobs to save time!
View the Recipe Index for a complete list of recipes. For the most recent vegetarian recipes posted on the blog, go here. To view all the recipes post on the blog, go here.